A relaxed time was had by all on Zanzibar. The tight and confusing streets of Stone Town, and the crystal clear waters of the northern beaches, only tempered by the rough seas on the return ferry journey. A few showed little sea experience and fed the fish.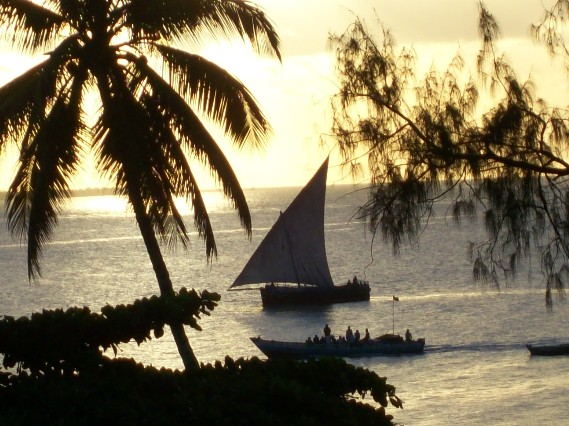 A day and a half of driving, passing fields of sisal and Mt Kilimanjaro – which as per usual, was hiding behind a veil of cloud – we arrived in Arusha, the safari capital of Tanzania and the gateway to the Serengeti.
Onto the endless plains –which in Maasai is Serenget, and a game drive on the way to the camp site within the park. The great migration north is due around this time of the year, but the vast herds were not quite so vast. Nonetheless loads of Zebra and Wildebeest were spotted, along with Elephant, Lion, Cheetah and other plains game. The campsite proved a wee bit spooky with Hyena prowling the outskirts and making a racket with their blood curdling howls.
Another game drive with more of the same, and then on to the rim of the Ngorongoro crater. This campsite provided spectacular views of the some 42km square crater. Formed millennia ago when a now extinct volcano blew its top. It provides a microcosm of life, with most game being present, and most there choosing not to tackle the relatively steep sides, and stay instead.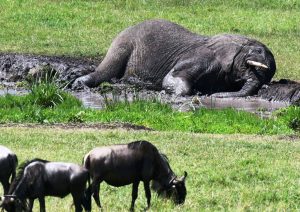 A hippo pool, more Lions, Elephants, Giraffe amongst others but the Leopard still eludes us. So after a morning in the crater it was time to head back to Arusha. 
This time it was decided to do a circumnavigation of Lake Victoria, rather than back track from Uganda to Nairobi. So from Arusha we headed west towards Singida. The first bush camp was a rather innocuous looking clearing on the lip of a valley. Spectacular views followed by a game of cricket with some locals. Surely they had no idea, but picked it up rather quickly!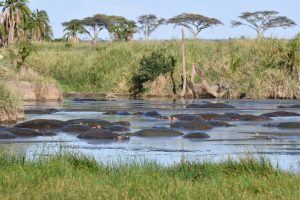 The next day was a rather confusing affair. Stopping in the town of Nzega for a lunch and shop stop, we followed the signs towards Kahama. What should be tarmac was a narrow graded dirt road! Thinking a wrong or missed turn somewhere, we were only satisfied that it was the correct road when some transport trucks were spotted heading the opposite direction. 
That evening we found a fantastic bush camp, which proved to be the last one for this journey. A small celebration was in order so with some cold beers acquired in Kahama, and some rather out of date cyalume light sticks we attempted a party. All to no avail really as most went to bed early!
The next day we crossed into Rwanda, complete with a rather confused border official. We are still in Africa if anyone has forgotten!The drive towards Kigali was spectacular, if slow going. Only 250km, but it took all day due to narrow, windy and hilly roads. Not helped at all by slow moving, overloaded transport trucks. Arriving around 4.30pm, we attempted to find the Catholic mission. No go, so we ended up getting a room at a hotel in town. The truck had to park out front, luckily off the road, where we cooked dinner to a very amused audience. I'm sure that is not a common site, and we felt like gypsies, but all done in good humour. The next morning was spent at the Genocide memorial. A very sombre crew returned to the truck. I believe it is best visited in person, rather than be described.The afternoon was spent traversing the 90km to Ruhengheri. More hilly, windy terrain meant another 3 hours travel. This time we did find the mission, and as dorms were the same price as camping, guess what we did! All getting a bit soft now!
The following day all were collected and driven to the headquarters for a briefing before the Gorilla trek. Then a few hours traipsing through nettles and thick bamboo before being confronted by the spectacular sight of a family group. As you are only allowed one hour with the animals, loads of photos were taken, then it is time to settle in and enjoy.
All too quickly the hour is up and sadly it was time to depart. All were on a high upon return to the mission, so much so that all bar Chris…went to bed! Too much inactivity of late and the cherubs were all tuckered out! The next day we crossed into Uganda, and the bad roads were back. The tarmac literally stopped at the border. The Ugandan side being an eroded dirt track. Another 90km of spectacular hills and mountain passes saw us arrive in Kabale, where we stocked up for two nights at Lake Bunyonyi (place of many little birds, in the local language). The lake is of undetermined depth, some believe up to 900m. A lovely place for two nights relaxation, even though the weather was quite foul. Next is Kampala and the source of the Nile at Jinja.