Big thanks for unforgettable experience in Africa. Especially to our driver, Mark, who was awesome. Nairobi to Victoria Falls, Nov 2017.
Africa Tours – Travel Africa overland safari, an adventure of a lifetime
African Trails has been running African overland camping safari using overland trucks to take groups of people around the whole of Africa since 1980. Read testimonials from previous travelers. We run trips from 5 day game park tours to 41 week Trans Africa overland enabling us to cover the whole of Africa. From north to south and west to east. With over 60 African adventure tours; covering 26 countries. With departures every month, you'll find the right safari for you.
Travel by overland safari truck is the safest, most friendly  and cost effective way to have an Africa camping tour. On our big Trans Africa and Cape Town to Cairo Nile Expedition.
We go to places where public transport is unreliable, roads are rough, and finding accommodation can be difficult. Safari in Africa with African Trails and when you join our trip with your backpack you will find everything you need on our well equipped expedition truck.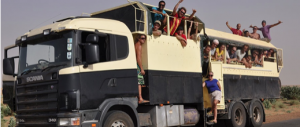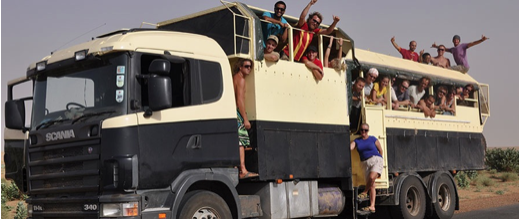 Late model Mercedes Benz and Scania, with Euro 4, fuel efficient and enviro-friendly motors with ABS braking and air-ride suspension give a smooth ride.
Our overland tour trucks have comfortable coach seats, with a wide aisle for leg room and space; a great place to socialise and to see the sites.
Heavy duty overland trucks allow us to get to those hard to find, rugged, out of the way places. Dirty and dusty roads with potholes and corrugations are no hindrance in our adventure tour off the beaten track to remote detonations.
Our Most Popular Trips
Our overland trips are so different to the usual game park safari to the  Masai Mara in Kenya,  the Serengeti & Ngorongoro Crater   in Tanzania. Or  Etosha Pan Namibia, or one  of the seven natural wonders of the world; Victoria Falls in Zimbabwe. Instead of a short visit to game parks that you can book through any travel agent on the high street at home, on our African overland camping safari we visit the game parks and all the sites and sights in between.
Starting a trip in Cape Town is a popular choice, a great city for a food safari.
We see African villages, towns and meet the people of Africa in Africa. In East and southern Africa you can take a sample of the best game parks in Kenya and Tanzania by going on our 15 day Kenya Tanzania Game Parks to Zanzibar. Travel further afield on our 21 day Nairobi to Victoria Falls. Or take in the whole region with an 8 weeks Gorillas to Cape Town.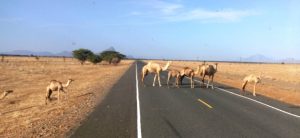 Waiting for a Camel Train to Pass
A snapshot of a day on an Overland Trip
Travelling through Africa, Asia & South America by safari truck is an experience in another world. Early starts, something new around every corner of the road. Each day's different. That's the beauty of an overland trip You could be spending an afternoon by a lake or driving along a dusty road complete with bumps and potholes.
In most campsites you can charge your equipment, wash clothes, and have a cold drink at the bar. Meanwhile, the cooks of the day are busy lighting the fire, and starting dinner. With nights watching the stars and the best nights sleep  you'll ever have; by the campfire, under the stars. Trip Life.
Come with us to do the biggest trip in your life, an African overland camping safari. Great if you have time or a gap year, make it part of a trip around the world. Join our 22 weeks London to Morocco heading to Cape Town, or a 41 week London to Morocco to Cape Town and Cairo. An Istanbul to Peking and Singapore.   Or even a  25 weeks or a full circuit of South America.
You can take a good look at our overland adventure tours to remote destinations on our various social media sites. Take a look at other travellers tales going overlanding on a shoestring
Phone: +44 (0) 1524 419909             Email: sales@africantrails.co.uk
African Trails, 28 Grange Street, Morecambe, Lancashire, LA4 6BW, UK