East Africa: Tanzania and Zanzibar
Named as one of the five most beautiful countries in the world, Tanzania and the exotic spice of Zanzibar offer the perfect second leg of an East Africa expedition .
But whether you are travelling on from Kenya and Uganda, having seen the mountain gorillas  or are arriving anew, you will be captivated by the beauty of the landscape.
Game and wildlife are much easier to see in Tanzania, while the mysterious Zanzibar Island lying just off the coast provides a chance to follow old trade routes.
Here's a few of the things you could enjoy on a fortnight in Tanzania and Uganda.
Serengeti National Park
One of the most famous plains in Africa, the Serengeti is known for the scenes of wildebeest, gazelle and zebra stampeding during their annual migration but there are many other animals that live here too. 
Camping in the park amongst the wildlife provides the chance to see and hear the natural sounds of the Serengeti, rather than just a sanitised glimpse of the animals.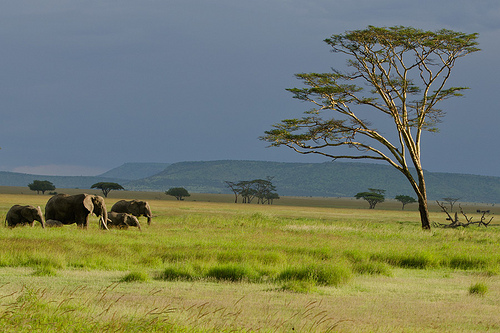 The Serengeti and Acacia Tree
Expect to see leopards sleeping in acacia trees overhanging the Seronera River, as well as prides of lion, gazing out over their territory. Even outside the migration season, you will get to see herds of buffalo dotted around the plains, with elephant and giraffe in smaller groups. Gazelle, impala, topi and eland are all present in their thousands, ever alert to the dangers that the predators around them pose.
There's also jackal, hyena and the smaller but curiously beautiful serval cat, and a glance into the skies will reveal black eagles soaring high above.
But it's not just the wildlife which is entrancing; the landscape itself is beautiful too. Photographs can't capture the glimmering haze of the Serengeti, with its golden and bronze savannah stretching as far as the eye can see.
Zanzibar
Lying just off the coast of Tanzania, Zanzibar, also known as the Spice Island, offers a magical retreat just a 90 minute boat trip from the mainland.
Floating in the balmy Indian Ocean, Zanzibar is 90 km long and 30 km wide, and offers everything from tiny fishing villages to the vibrancy of the capital, Stone Town.
One of the very few places left in the world where saffron is produced, Zanzibar was one of the most important stops in the Spice Trade many centuries ago. There are still many spices and teas grown on the island today, and it's possible to take tours around the plantations which will fill your nostrils with some of the most delicious aromas and scents. As well as saffron, cardamom, nutmeg, ginger and cloves are all grown on the island.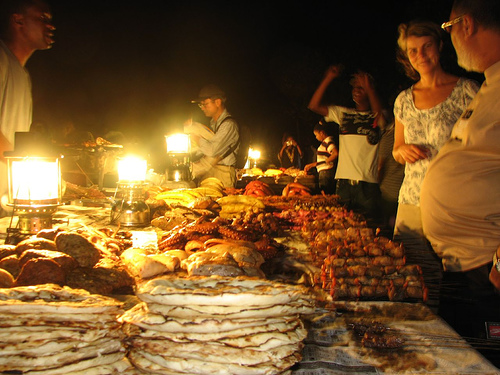 Great food for sale at a Zanzibar Night Market
If you are still hungry to see more wildlife, Zanzibar has its own nature trail into the lush Jozani Forest. Amongst these trees you will find the near-extinct Red Colobus monkeys which are native to Zanzibar. Playful and friendly, you will need to watch your bag and your belongings to stop a pair of nimble monkey fingers making off with them! These wild monkeys are so curious and free from fear, there's a good chance they will even pose for a photo – just watch your camera…
Stone Town is an intriguing blend of Swahili culture mixed with Indian, Persian, Arab and European influences creating a melting pot which has earned a place on UNESCO's World Heritage Sites list.
The famous explorer, David Livingstone, has a house dedicated to him in Stone Town and there's also a museum of Swahili culture, known as the Palace of Wonders. In front of this museum, every evening after sunset a market is held which offer tourists the chance to sample traditional Zanzibar food, a real culinary treat.
Lake Malawi
Often described as a freshwater sea, Lake Malawi is a tropical paradise escape with soft golden beaches and crystal clear waters.
A site often used for watersports, as well as the usual sun, sand and swimming, it's possible to enjoy scuba diving, snorkelling, water skiing, kayaking and sailing.
The lake is of huge proportions, plunging to depths of more than 700 metres, way below sea level and stretching out for more than 365 miles from north to south.  Unsurprisingly then perhaps, the lake is home to a wide array of birdlife and fish, with many of the cichlids that can be found native to only Malawi itself. Because of the total isolation of Lake Malawi from any other water source, some of the fish that can be found here are rather alien in appearance and incredibly important from an ecological perspective.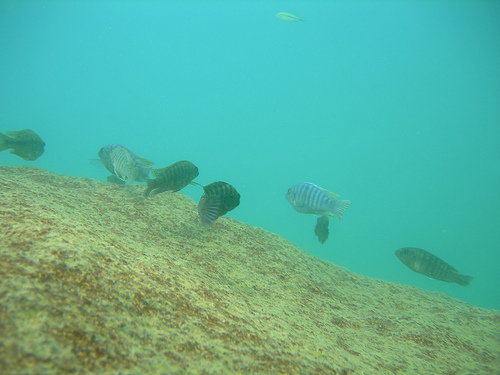 Cichlids in Lake Malawi
As well as containing the largest number of fish species of any lake in the world, Malawi also attracts mammals to its waters too. Spend a while relaxing as the lake gently laps against the sand and you will see hippos, baboon, wart hogs and even the occasional elephant arriving for refreshment.
Kande Beach is a popular place to stop in Lake Malawi, offering a place which is safe for swimmers with no parasites or hidden rocks. At Kande Beach the sand is soft and white and the warm waters are shallow. While away a few hours in a shady hammock, or enjoy a refreshing drink at the waterside bar, the facilities at Kande Beach are top notch and offer the perfect complement to any camping expedition.
What's next?
Travellers who are staying with the expedition will be shortly moving on to Zambia whilst other visitors will be making their way home. Kande Beach is the perfect place to finish the Tanzania and Zanzibar tour, leaving everyone feeling refreshed and revitalised and with hopefully some stunning photographs of their time in East Africa so far.
Image Credits: Ganesh Raghunathan, Seyemon and Lars Plougmann