We offer a fantastic Istanbul to Beijing tour package with prices starting from £5,700 pounds plus local payment. The local payment for this tour is two thousand dollars. Our Istanbul to Peking tour is a great way to experience different cultures and see how they vary from country to country. During the fifteen week tour you will visit the following countries: Turkey, Georgia, Armenia, Azerbaijan, Iran, Turkmenistan, Uzbekistan, Kyrgyzstan, Kazakhstan, Russia, Altai Republic, Mongolia and China. Please see below for a week by week outline of the places you will visit on the tour.
Weeks 1 – 3 Turkey
Week  4 Georgia
Week  5  Armenia
Week  6  Azerbaijan
Week  7 – 8  Iran
Week 9 Turkmenistan
Weeks 10 – 11 Uzbekistan
Week 12 Kyrgyzstan
Week 13 Kazakhstan
Week 14 Russia, Altai Republic
Week 15 Mongolia
Week 16 China
For a more detailed look at the Istanbul to Beijing tour, please see our itinerary.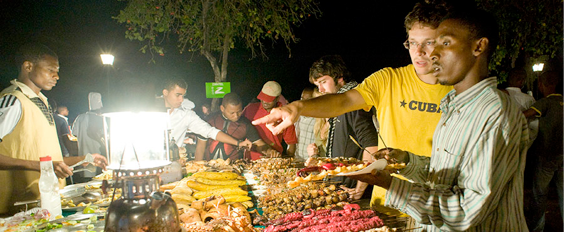 Eating Out
Image source: https://www.africantrails.co.uk/images/at-4.jpg
Istanbul to Beijing package details
The tour cost and local payment includes transport in our expedition vehicles. All of our trucks are regularly serviced and maintained so we can provide you with safe and reliable transport. We only use fuel efficient vehicles with environmentally friendly motors. All of our expedition vehicles are fully equipped with everything you will need during the sixteen week tour.
Our package price also includes payment to the driver and the cost of road taxes and tolls. You will not be required to pay any extra for these things during your trip.
We provide all of our guests with camping and cooking equipment. Breakfast and dinner are also included within the price. Money from your local payment will only be taken to pay for food when the truck is parked up in places for a few days. The local payment is to be paid to the tour leader on the day of departure from Istanbul.
Excluded from the package
Please keep in mind that the cost of our Istanbul to Peking package does not include flights, transfers, visas or personal insurance. These must be purchased by each individual as separate entities. Visa costs vary from country to country. Make sure that you bring enough passport sized photographs of yourself with you to cover each of your visas.
Shop around to make sure that you get the best flight price. Although finding a low cost flight is great, make sure that the flexibility and conditions suit your requirements. We also recommend that you refrain from booking your flight home until the end of the trip. Whilst we have every intention of finishing our trip on the stated date, delays do occasionally happen.
Budgeting extra money
We recommend that you budget for between twenty to fifty dollars a day. The amount of money you need will vary depending on how much you plan on eating and drinking, as well as how many souvenirs you buy. You will need to budget separately for side trips. It is best to bring US dollars as it is the easiest currency to exchange on the tour.
African Trails video
African Trails have been running tours successfully for over thirty years. We now run over thirty five tours. Watch our video below to see some of the fantastic photographs that have been captured by our visitors over the years.