The Expedition Vehicles – Safari Truck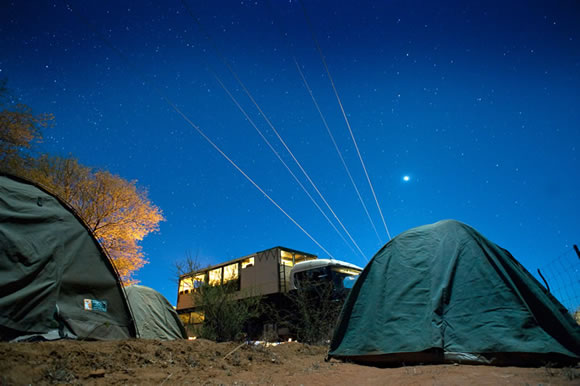 African Trails – Overland Safari Truck – Built for overlanding
We operate all our own vehicles from our safari workshop. Here our trucks are serviced and maintained, enabling us to provide you with safe reliable transport. Most of our trucks are late model Scania and Mercedes Benz trucks with Euro 4 fuel efficient emissions and enviro-friendly motors with safety features such as ABS anti-lock braking and air-ride suspension for a much smoother ride.
The African tour trucks are fitted with comfortable inward and forward facing coach seats. A wide aisle gives you loads of leg room and lots of space to move around in, making the back of the truck a great place to socialise.
Vehicle design has evolved over the years to provide off the road driving and the most practical and comfortable vehicles for our African travel.
Our Safari trucks are equipped:
Tarpaulin sides with clear windows providing all round viewing. Rolled up most of the time on safari they can be tied down in cold or wet weather.
Most of the safari trucks have an additional elevated viewing platform at the front of the truck, offering great views and excellent photographic opportunities for game viewing of wild animals.
Lockers for your backpack, accessible from inside our safari truck; a communal safe for your valuables; and a medical kit for emergency use.
Interior lighting for reading plus exterior lights for cooking on safari.
Amplifiers and attachments for personal CD players so you can listen to your own music.
There is ample storage for food enabling us to buy bulk along the way.
We carry over 200 litres of water for desert conditions.
Extra fuel tanks, for those long runs and fuel shortages.
Cooking equipment and eating utensils.
Roomy, easy to erect tents.
Sit on camp stools on African tours and throw mats to relax on the sand in the Middle East.
Cooler boxes keep the drinks chilled.
Fire grills are used for BBQ's with gas as a backup.
Camp tables for preparing meals on; under an all weather awning in case it rains.

Safari Truck – Great for getting to those out of the way places
An overland safari should be on everyone's bucket list. It's  the best ways to see Africa. Most people can't wait to get back on the overland truck again.
Rugged, off the road, safari trucks to cross deserts and get off the beaten track.
Cross deserts and rivers – 30 weeks – Trans Africa London to Nairobi
Follow the Nile to the sea – 17 weeks – Cape Town to Cairo – Nile Expedition
Game parks and the wonder of Vic Falls – 21 days – Nairobi to Victoria Falls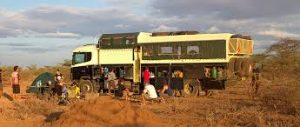 Sleeping on Safari
On overland safari is a camping trip.  You'll be sleeping in two man dome tents with a waterproof floor on a sponge mattress. The tents are easy to set up, only taking about 10 minutes to erect and 5 minutes to take down, though that's after a few days practice
In a number of campsites on route where you can upgrade to rooms, as you also do in Zanzibar and Swakopmund. Most of nights you'll be so tired after another new day that you'll just fall asleep as your head hits the pillow and yes, do bring a pillow.
The campsites in Africa tend to be well equipped, supplying gallons of hot water and well kept ablution blocks. When the weather is hot the shower water may well be just 'refreshingly cool'. With nearly all campsites being owner operated and managed, each has its own eclectic style. All the camps have bars and a cold beer handy at the end of a dusty drive.
In the national parks there are no fences around campsites. So you might be sleeping near, or with, elephants. The wildlife is tremendous, with Hippos grunt, lions do cough and roar, elephants blow air through their trunks and trumpet but walk very softly, while hyenas whoop.