The road to South Luangwa was actually much better than expected, for the first 50kms anyway. After that it was a corrugated mess. Still, it only took three hours to cover the 120kms. Arriving around lunch time we set up camp, organised some game drives and chilled out by the river for the afternoon.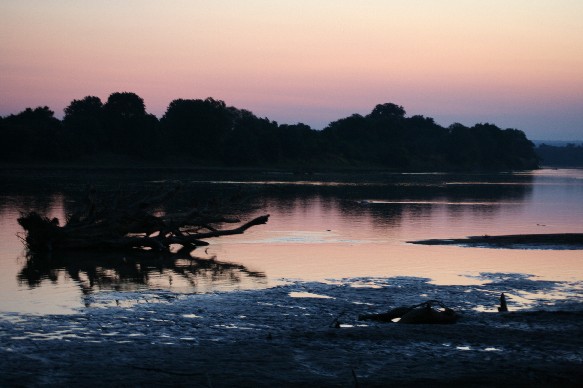 Looking across the river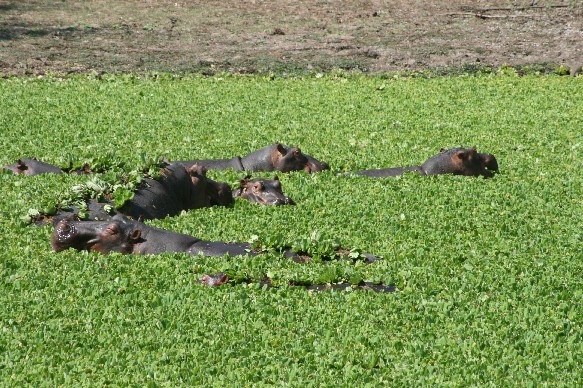 Hippos in the water plants
The morning game drive was incredible. Loads of Lion, Elephants, Impala, Hippos and the usual suspects, but unbelievably Wild Dog were spotted. Initially seen chasing Impala, then lost, they were literally stumbled across, and a few minutes were spent in their midst.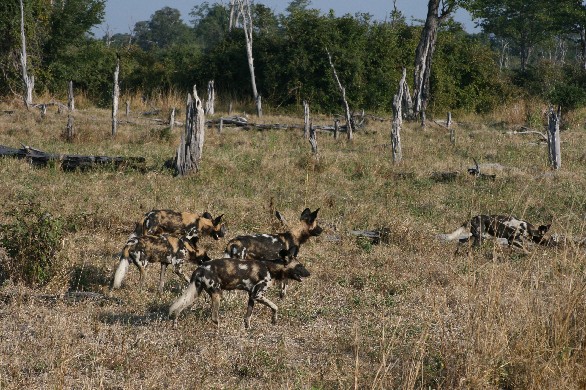 Wild Dogs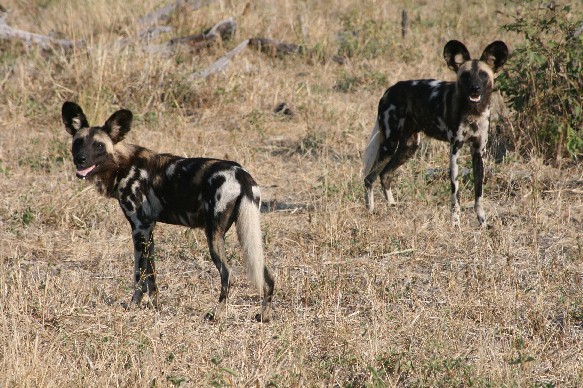 Wild Dogs
The evening drive was just as good with sightings of Large Spotted Genet; White tailed Mongoose, and my highlight, an Elephant Shrew. Still the Leopards elude us! All are in agreement that South Luangwa has been the best game park so far.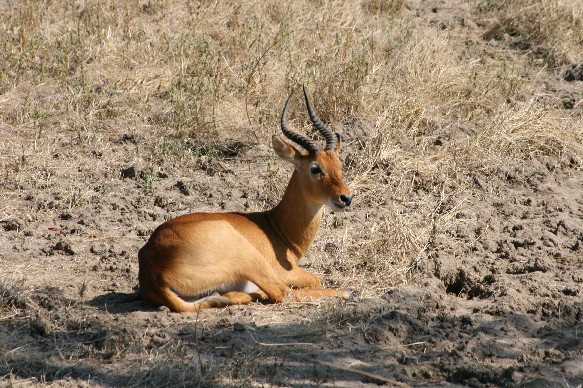 An Eland
Another early start saw us back on the road to Chipata. Strangely enough the road had not improved over the last two days! A breakfast stop overlooking the Luangwa valley was spectacular. Continuing on we came to the border with Malawi, and fairly quickly we completed formalities, before moving on to Lilongwe, the capital.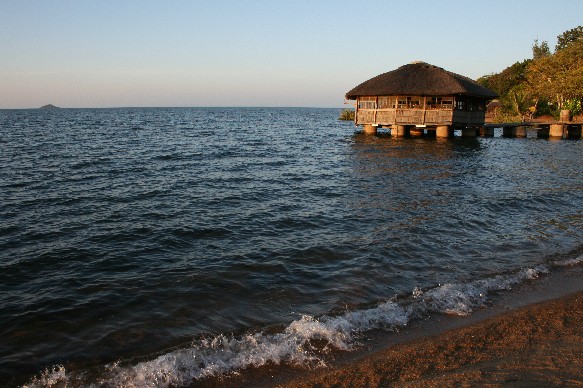 Lake Malawi, The Boathouse Pub
With some shopping done and diesel in the tanks we moved on through some spectacular scenery, literally descending into the rift valley towards Lake Malawi. Our first night in the country was spent at Senga Bay, at the southern end of the lake. After a bout of supermarkets, it was great to throw oneself back into the colour and bustle of local village markets again. Salima has a rather good one and we stocked up for a few days at Kande Beach, a few hundred kms north.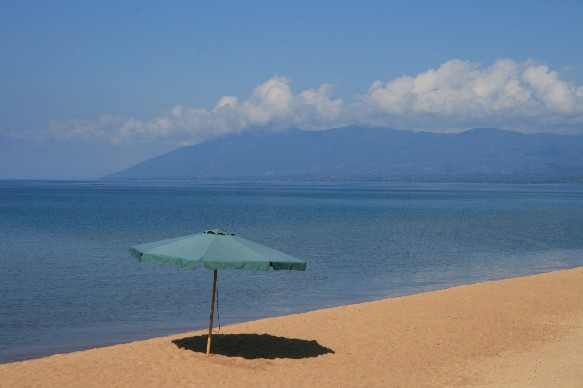 Kande is a great place to chill out and do very little
White sandy beaches and the freshwater of the lake is very invigorating. Originally only two nights were planned, but due to persistent calls we stayed four! The local village was also often visited, including another football match, which we lost 5 – 3. That was another reason to stay, as we were rather stiff and sore afterwards! One evening we were invited to have dinner at the chiefs house, so with our plates, cutlery and cups in hand, off we went. A pleasant evening sampling local food, dancing and playing with the children was had. Reluctantly we left, heading towards Tanzania. Due to our extra days at Kande we had a bit of time to make up, so two days of solid driving was ahead of us. The first day saw us cross the border, and then ascending the escarpment we had spectacular views of the valley and Lake Malawi. Quite rare, as it is usually hazy, but very clear this time.  After a bush camp, an early start and a very long day, we arrived late into Dar- es -Salaam. Chaos is one way to describe it. The traffic was horrendous, and the roads around the estuary are not much chop either. Very much a relief to stop after two very long days. The next few days are being spent on the spice island of Zanzibar, some 60kms off the coast.