WEEK 5
From Bamako we hit the road and started heading northeast towards Dogon country.  Our first stop along the way was Djenne the largest mud mosque in West Africa.  We had our first boat experience of the trip, and had children fighting over our fingers to hold, and wanted to admire photos of themselves in our cameras.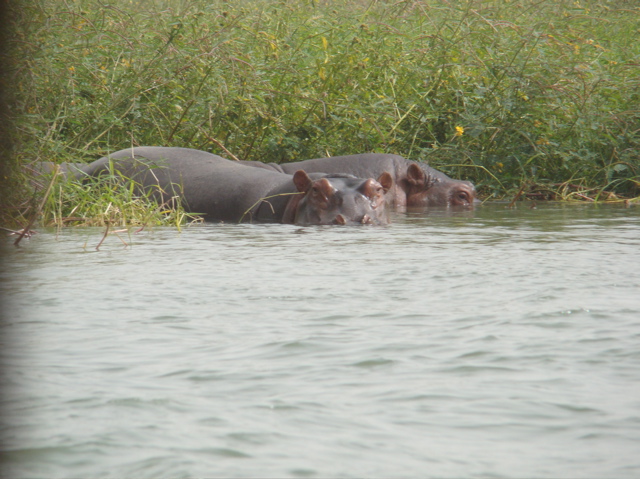 We had a bush camp before heading to Severe and Mopti (Port on the Niger for Timbuktu tours).  We went and inspected our boat/dug out canoe that would be our home for 3 days for our Timbuktu excursion, and were pleasantly surprised.  Mopti is a vibrant port town, and was well worth a wonder around, and we stocked up with supplies (beer and water) for the boat trip to Timbuktu.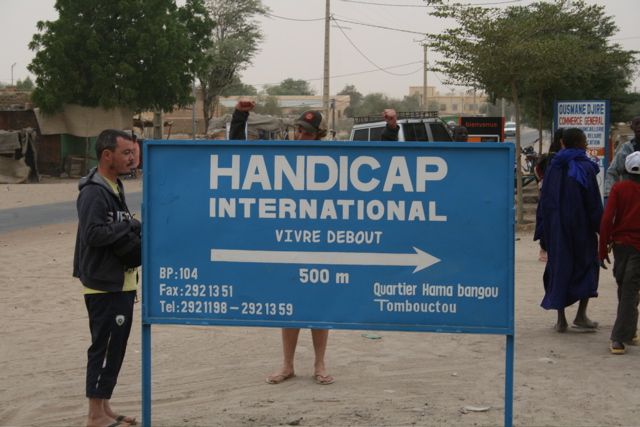 After a night in Severe we jumped on our 'canoe' and set off for Timbuktu.  Perhaps a closer inspection of the boat should have been undertaken, as we were wet and cold within minutes.  We adapted to the situation and curled up in our sleeping bags are used each other as pillows.  The views were spectacular as we bobbed along, we saw the local activities at the mud villages built right next to the river.  We stopped at a couple the villages on the way up, where we were greeted like gods, and once again had children fighting over our fingers and demanding we took and showed them photos of themselves, we can only assume they have no mirrors?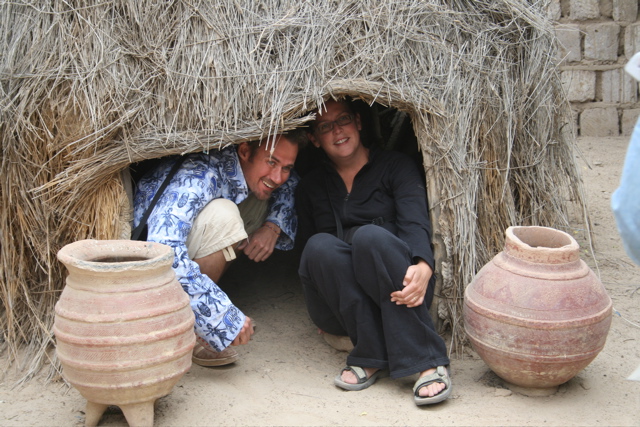 The first night on the boat was a little daunting, still having not reached a suitable place to camp by nightfall, it was pitch black, a cloudy night with no moon.  We were all very pleased to be standing on the firm land at the end on the day, particularly Dave who suffered considerably on the rocky ride.
We managed to balance the boat a whole lot better on the second day.  The toilet (hole in a seat) was at the back on the boat, and everyone had to weight balance the boat, whenever anyone needed to go to the toilet, which was quite often as we were 21 people and some of them were drinking beer at 9 o clock in the morning.
Celebrations took place at camp on the 2nd night, with Will taking out first place for the most outrageous on tour so far, he was very well looked after by the others.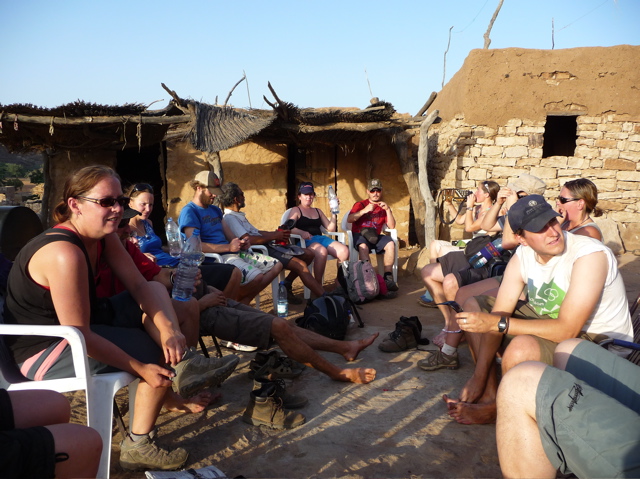 Third day on the boat, we had our first close encounter with African wildlife, 2 hippos wallowing in the shallow waters on the Niger, they were quite close and when they disappeared under the water, we took off as fast as our 40 horse power engine would take us.
Timbuktu was all that we expected, we didn't have overly high expectations.  It is another mud Malian village, but with a interesting history, which we enjoyed hearing from our local guide, and we will all proudly say and wear our T-Shirts that say we "Went to Timbuktu and Back".
An interesting feature of Timbuktu, where the cats drying out on powerlines, which are supposably ground down for medicinal purposes (curing stomach problems).  Sand is also a staple in Timbuktu cuisine, and everything is overpriced.  And beware you will get mobbed by English speaking Mohammed's, Mr Good Price, Mr Cheaper Prices, and Obamas, trying to sell an assortment of hand crafted goods.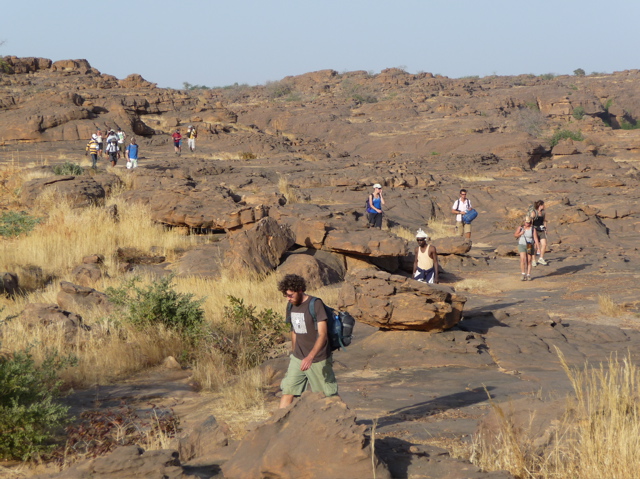 After 2 nights in Timbuktu, in what must have been a stunning building in its time, we headed back to Severe to reconnect with Ruby.  We left Timbuktu in 5 4 wheel drives, who appeared to be rally car racing through the desert, not too surprisingly 2 of the vehicles did not make it all the way to Severe, and the remaining 3 vehicles became tightly packed with 25 people.  One vehicle broke its axle and the other blew its radiator.  Negotiations with the tour company are currently being undertaken to try and establish a fair price for the vehicles.
Despite the obstacles, all enjoyed the trip and fun was had!
We are having a housekeeping day today, before setting off to Bandiagara, where we will start our 3-day trek in Dogon country tomorrow.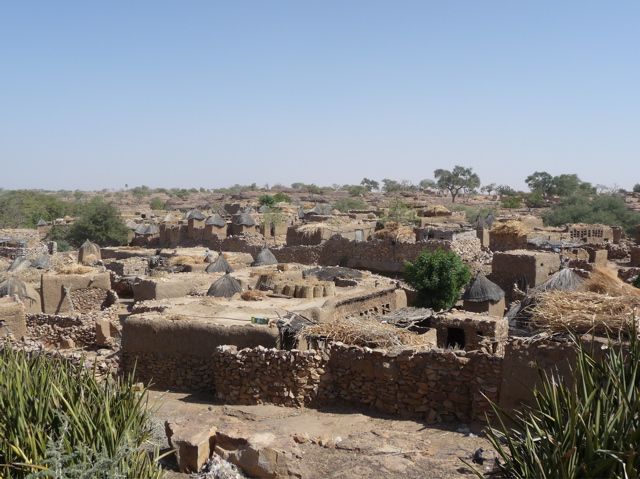 WEEK 6
Negotiations to reduce the price of the vehicles from Timbuktu unfortunately didn't go as well as we had hoped.  It was somehow our fault that the vehicles had broken down, and we were lucky that we didn't get left on the side of the road.  Was well worth try though!
From Severe we had a short drive to Bandiagara, gateway to Dogon country.  We started organising ourselves for our Dogon trek, and our first bit of exercise for 6 weeks, was a quiet night around the campfire.
We opted for a 3 day 2 night Dogon Trek, and thought that it would be a fairly intensive three days of climbing up and down rocks.  We set off on the first day driving for a couple of hours, through horticultural farms along the river banks.  We arrived at our lunch spot where we parked up for 3 hours, during the heat of the day before we set off for our one and a half hour walk.  `The scenery was spectacular.  We arrived at a guesthouse, where we enjoyed the scenery, had dinner, and slept on mattresses on the roof of the guesthouse.  Was a fantastic place to sleep, spotting shooting stars before drifting off to sleep.  We were however, quite concerned that we were going to loose belongings in the winds, and were rudely awakened at 4.30am by donkeys and roosters.
The middle day was the most intensive of the three days, 5 hours walking broken up with a 3-hour lunch break.  The lunch break was very memorable; it was a cool little guesthouse, which had western toilets clean enough to sit on with toilet paper and sinks with soap, quite a treat.  We dropped down in the plateau and wondered through villages and looked up at the old villages in the rocky outcrops.
The last day was a very short walk heading back to the Ruby in Bandigara.  We had 2 vehicles, and once again realised that it was better to get into the older and less reliable looking vehicles, for a reliable ride home.  The better looking vehicle was a van that had potholes cut out of the sides, which didn't have quite enough power to carry 10 people up the steep hills, and didn't have a handbrake.  The sliding door was left open and when the hills were too much to handle everyone had to leap out and throw rocks under the wheels before it started sliding backwards.
We were treated to a dinner our once back in Bandigara, and were all pleased to have a break from rice with red sauce, and had a cold but delicious meal of chips and stewed meat. We once again climbed into our port holed van to get back to the campsite, which successfully delivered the first half and of the group, but only managed to get the second have of the group half way, backfiring and sparking and eventually dying on the way back.
Everyone is currently trying to gather some Christmas supplies to accompany our three little pigs that have been purchased that we will sacrificed and attached to spit poles for a feast tomorrow.  MERRY CHRISTMAS TO ALL!