WEEK 10
The rest of our time in Accra was spent at Kokrobite Beach at Big Milly's Backyard, which was renamed Big Milly's Blur by some who seriously started questioning if this trip was good for their health.  Hot humid nights required the body to be cooled by cold drinks and hot humid mornings, waking up cooking in your tent, you are also required to cool your body with cold drinks.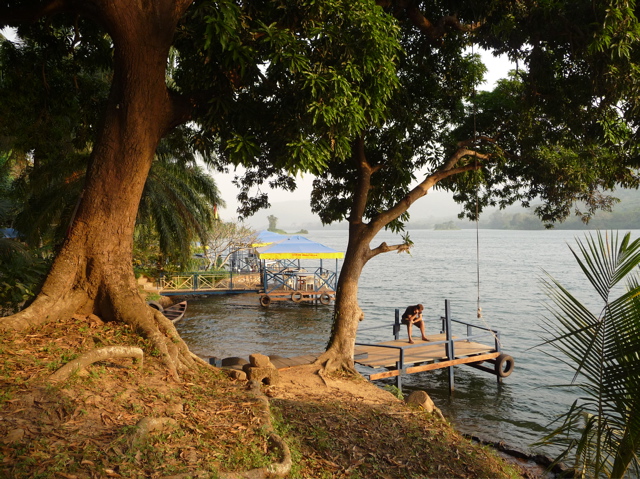 Brenu Beach, where we relaxed and enjoyed a……nice beach
From Kokrobite we headed west along the coast to Cape Coast, where the Cape Coast Castle that was once one of the largest slave markets during slave trading humbled us.
From Cape Coast we headed further west to Brenu Beach, where we relaxed and enjoyed a nice beach, which we had pretty much to ourselves for the whole time. There was lots of swimming, body surfing, walks and even runs along the beach for the energetic.  The local chief was wined and dined by some people who are looking at the beach for a resort, which would dramatically change the place and be quite sad.  We also did shopping excursion further along the coast to Takaradi and to Elmina, which was also a large slave market.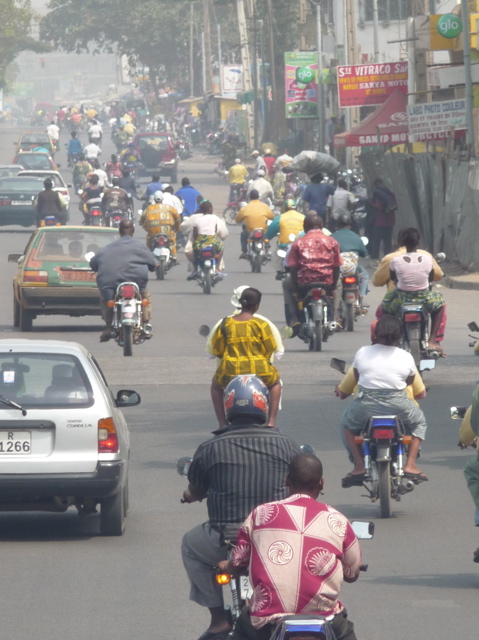 Downtown Accra – motorbike city
From Brenu we started heading back to Accra.  We stopped off Kakum National Park where we went for wildlife walks and got rope burns from holding on for dear life as we walked on the suspension walkway.
We returned to Big Milly's for two nights, where only a few slipped into the Big Milly Blur.  We fought through Accra traffic one last time and headed into Accra to pick up a new addition to the group Joost, who takes our Dutch count to two.
Heading northeast, up to Lake Volta, the largest artificial lake in the world, where we marvelled at the Akosombo dam.  The scenery changed from what we had already seen of Ghana, becoming lush, green and hilly.   Lake Volta was unexpectedly quite beautiful.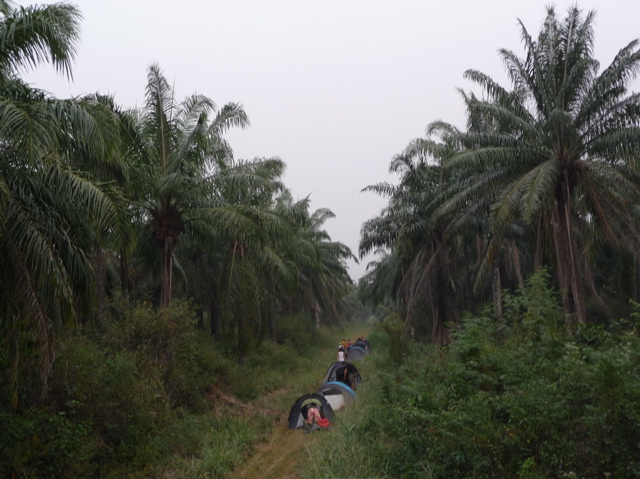 Camping on a very quite [we hope!] road
WEEK 11
From Lake Volta we headed further East to Wli Falls, which were stunning.  Most people enjoyed the leisure walk to the first fall.  A few people tested their fitness, or lack of fitness, on what was more of a rock climb than a walk, to the top waterfall.  The brave among us took shower under the waterfalls, which were extremely icy, and involved lots of shrieking and gasps for breath.

The border crossing from Ghana to Togo
It didn't take long for us to find a spot to use up any remaining Ghanaian Cedi.  Luckily there was a bar at the border and the customs official was the barman.  We were stamped out of Ghana and arrived at the Togo border post, where we waited while the immigration official to be located.  From the paperwork we saw, it looked as though we were the second people to use this border post this year.
Our first days drive in Togo was extremely steep, narrow roads, with thick vegetation on either side of the roads, was a beautiful drive.  We liked the look of a mission hospital we looked down on, and decided to target it as a bush camp.
The Americans running the hospital warmly welcomed us, and it was a perfect place to stop have a few people checked up.
From the hospital we found a road leading in the bush that looked like a good bush camp, fortunately no traffic decided to use the road that night.  We did have a few people walking through the campsite carrying guns and machetes but they were friendly and didn't even look that surprised to see us.
Towards Lome the capital of Togo, which we explored for a couple of hours before heading to what we thought was going to be a campsite beside the beach in Aneho.  Turns out the campsite didn't want us, so we established our own campsite beside the beach near a local village.  We were extremely interesting to the local village that studied us as we cooked dinner.  One of our washbowls went missing during the course of the night. Happily it was later returned to us, and the person who took it was strongly reprimanded.
Into Benin via a town that was meant to have one of the largest fetish markets on west Africa that we couldn't seem to find, or didn't exist?
WEEK 12
In Benin our first stop was in Grand Popo were some us went on a boat trip and had a look around a fetish village, and watched a family dispute unfold.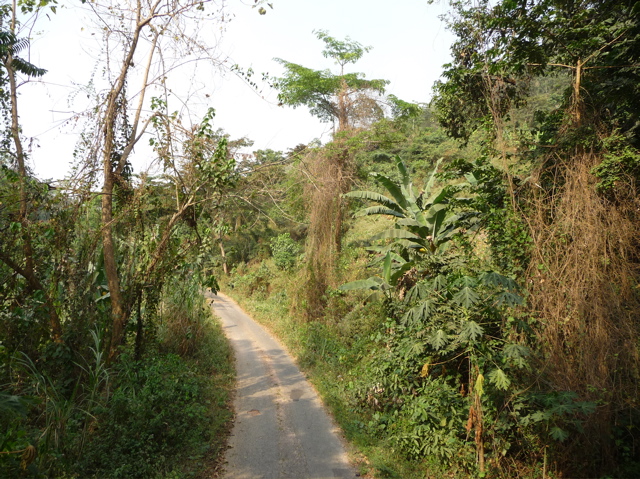 Through the Jungle Towards Lome, the capital of Togo
We were once again one Visa hunt when reaching Cotonou, were we obtained our Congo Visas, which was out easiest visa to obtain yet, successfully acquiring them in one morning.
Most of us enjoyed a ride on a taxi motorbike through town with one if not two us climbing on with no helmet. Cotonou roads are dominated by the motorbikes and the rides where quite exhilarating.
Goodby to Obsombo
We said a tearful goodbye to Mich and Clare, who headed back to Australia.  Four boys of the trip took a holiday from the holiday and headed off to Lagos for a couple of days.  Ruby and the remainder of us went northeast, to visit the stilt village of Ganvie, a boat trip on Lake Nokoue. The guide told us 30 people lived but we think that he meant 30,000.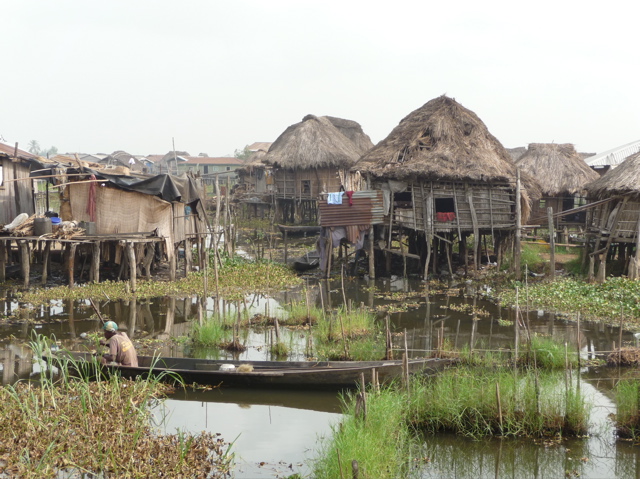 Visiting the stilt village of Ganvie, by boat on Lake Nokoue
It was an interesting drive to the stilt village.  The main road was closed we had to take an alternative route through a villages with low powerlines that Ruby didn't fit under.  Luckily the wires were not live and Walter stood in the beach (open roofed section of the truck) with a broom lifting the power lines for us to go under.
From the stilt village we went to the town of Abomey, where we admired the palaces, and got our paperwork together for crossing into Nigeria.
WEEK 13
The crossing into Nigeria went more smoothly than we expected, it was interesting nonetheless.  The boys who went to Lagos, had reported back on their experience of getting into Nigeria. At the border they had been  drilled and told that they weren't going to be allowed into Nigeria, even though they had been stamped out of Benin, so we were expecting the worst.
On exiting Benin we found ourselves within a village of narrow dirt roads, we weaved or way through the tracks. Here we stumbled upon the deserted border post.  We located the officials, who were very accommodating, and got stamped into Nigeria.
From the border post we drove towards Abeokuta, approximately a 100 km drive where we were passed about 15 police checks. We were stopped about 10 times to have our passports inspected.  The police were all very friendly and seemed mostly just intrigued about what we were doing.
We stopped at a town, where we were a novelty and Ruby was soon surrounded by hundreds of locals. A lot of us got our meat fix, after being vegetarian for quite some time.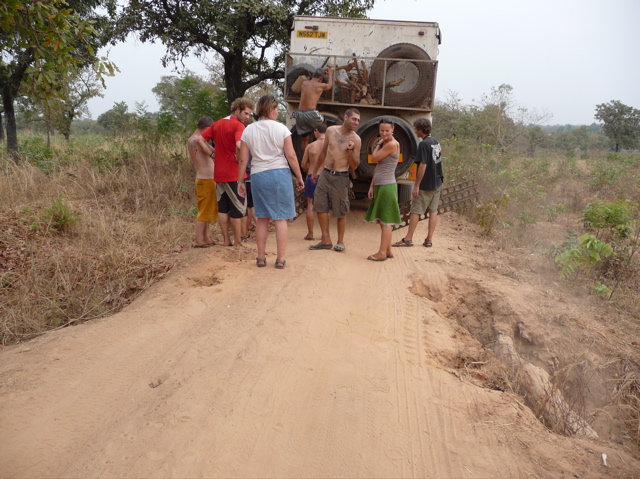 Marks driving was tested on some horrendous roads
We reached Abeokuta
We discovered just how expensive things were in Nigeria. We finally reached the golf club where we were staying for the night. We were wrongly taken to a sports complex that seemed have every sport apart from golf.  This took our count of staying at golf complexes to 3 for the trip, one the night before at a mini golf course. This being the second mini golf course of the trip.  The boys returned from Lagos, who had had a good but testing and expensive time.
From here we started heading towards Abuja.  We did 2 bush camps along the way. Marks driving was tested on some horrendous roads, where we all saw more trucks that we had ever seen in our lives, mainly petrol tankers.  The second bush camp was beside a village that were extremely surprised to see us, and we were once again quite the novelty. A head count of 115 spectators was counted over breakfast. They didn't seem to mind that we collapsed their bridge on our way in.
Sheraton Hotel in Abuja
We were all pleased to reach the Sheraton Hotel in Abuja. Here we could all make the most of the facilities after not having a shower for days when we had been in extreme temperatures.  Staying at the Sheraton isn't quite as ritzy as it sounds, and we really felt that we were backpacking as we parked the truck in the staff car park and pitched our tents.  First hot showers in about 2 months.
Thought we were going to be successful in obtaining our Angolan Visas whilst in Abuja, and we all put on our backpacking best for the procedure, which brought out some interesting outfits, included sneakers and skirts.  We all returned from the Angolan embassy a little disappointed. We feel one step closer to obtaining visas but still miles away. we were told that; we needed to return with our passports in 2 weeks time, when they would have more of an idea whether they could issue visas.
Our plan of attack for the next wee while is still up in the air at the moment is; we wait to here longer for visas, fingers crossed.