Introduction 
Hurghada is the second largest city in Egypt and won the Trip Advisor Travellers' Choice Awards in 2012 thanks to its crystal clear waters, tons of activities and popular tourist attractions. Nestling on the coast of the Red Sea this bustling resort town has plenty to offer for all different types of visitors.
Diving in the Red Sea, Hurghada
One of the first things people want to do once stepping off the plane in Hurghada is to go scuba diving in the beautiful turquoise sea. There are many diving schools, clubs and tours which will help you make the most of your time underwater. Teeming with hundreds of different wildlife thanks to the many coral reefs around the town, make sure you invest in an underwater camera to get some fantastic shots of below the sea. If you are unsure about diving in at the deep end then many of the diving schools in Hurghada offer beginners lessons run by fully trained teachers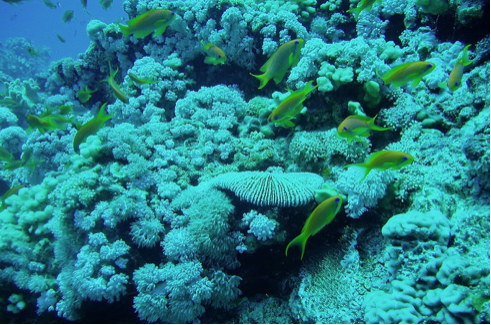 Underwater in Hurghada, Egypt, as seen by a scuba diver
Source: https://farm3.staticflickr.com/2279/2119884893_32dccd0ea0.jpg
Shopping in El Dahar, Hurghada 
El Dahar in the old down town area of Hurghada, Egypt, is perfect for picking up souvenirs and presents for those back home. Although some may feel that shopping is not much of an activity, in Hurghada it is a lot of fun due to haggling with the shop and stall owners. A big part of Egyptian culture is to haggle the prices of goods, especially souvenirs, most of the time you can get up to 75% off of the original asking price. For more big brands you can also visit New Marina which has shops selling many well known brand names. Some of the shops in New Marina sell fake brand names which are extremely cheap, so look closely when shopping around. 
The Sahara Desert, Egypt
Not far from Hurghada is the famous Sahara desert, another reason many tourists flock to Egypt. Here you can partake in many different activities including quad biking into the centre of the desert to have tea with a Bedouin tribe, an experience you do not want to miss out on! It is of course very hot and sandy, so make sure you take a scarf with you to protect you from the heat and sand, although you can always buy one there. Many operators run different activities in the Sahara so research them thoroughly before making a final decision. 
Eating and Drinking in Hurghada, Egypt
Due to its more Western influence there are many popular fast food restaurants in Hurghada and alcoholic beverages are easier to come by then a lot of other places in Egypt. If you are looking for some real Egyptian cuisine then there are various local eateries in the main town. Food such as kebab, kofta, torly, bread and vegetables are amongst the most popular with Egyptians and tourists who want to sample local food. A lot of the restaurants are also bars as well, meaning that after dinner you can relax of an evening with a glass of wine. 
Al-Mahmeya, Hurghada
Al-Mahmeya is on the National Park of Giftun Island and in Arabic means 'protected'. This beautiful tourist spot is completely environmentally friendly and offers a range of activities from swimming with dolphins, sunset boat trips and children's snorkelling. The beach is one of the best and well looked after in Egypt, meaning that you will never want to leave and will quite possibly spend a lot of your holiday in Hurghada on this stunning tourist area.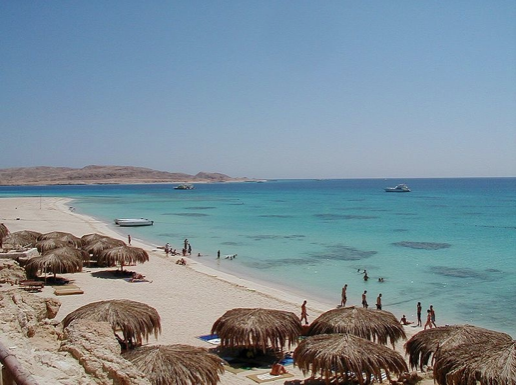 The Al-Mahmeya beach on Giftun Island, Hurghada.
Source: http://en.wikipedia.org/wiki/File:Mahmya.jpg 
Conclusion
You only have to look through this guide to see why Hurghada is the number one destination for many tourists Worldwide. From beautiful beaches where you can spend your days participating in water sports or scuba diving, to a quad biking excursion across the Sahara, Hurghada is guaranteed to provide you with the holiday of a lifetime. 
Image Credits: slipszenko 1 & Wikipedia 2