One of the most impressive natural wonders in the world, Victoria Falls is a destination that literally takes your breath away. Lying between Zimbabwe and Zambia, these superb falls are a part of two national parks, one in each of the countries, namely Mosi-oa-Tunya National Park and Victoria Falls National Park. The falls are over a mile wide and 355 ft. high with millions of cubic feet of water plummeting into the Zambezi River during the rainy season. The spray from the falls can be seen from 30 miles away which is how the falls got their name – Smoke that Thunders – Mosi-oa-Tunya.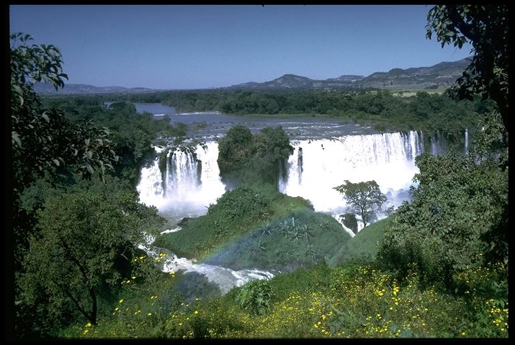 The spray from the falls can be seen from 30 miles away!
Image source: http://members.tripod.com/~Robert_e_bob/Africa1/Falls.jpg
A Unique Location That's Out of this World
The beauty of Victoria Falls is one thing but being able to get up close and feel the full force and power of this natural wonder is something else altogether. The noise and spray are, to say the least impressive but it's also the permanent rainbows which are so magnificent too.
Planning a Trip to the Falls
A trip to the falls at any time of the year is superb, but going when it's the rainy season is even better. The rains start in March and last right through till May and this is when the location is at its most magnificent and impressive. There are several packages available that incorporate Victoria Falls and depending on the amount of time you plan to be away on safari there is something that will fit into your timetable and budget which means you can start planning your African adventure sooner rather than later.
Dar es Salaam to Victoria Falls – Zambia
This 13 day journey takes in a lot and includes some spectacular places like Masai Steppe, Arusha, Serengeti National Park, Zanzibar Island and then on to Zambia and the magnificent Victoria Falls with lots more in between. It really is a 13 day journey of discovery and adventure. The package offers travellers a lot of optional extras which includes trips to Malawi's Kande Beach and a chance to swim with the dolphins off the coast of Zanzibar at Kisimzikazi to name but two of the exciting things available to all our intrepid travellers.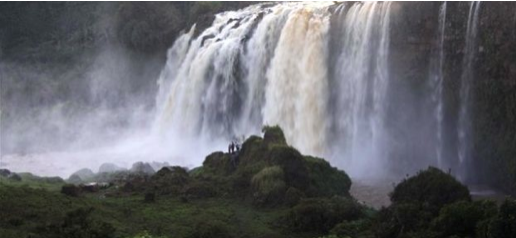 Feeling the full force of the falls is an amazing experience
Image source: https://www.africantrails.co.uk/images/galleries/37/cache/thumb_blue%20nile%20falls_adaptiveResize_624_288.JPG
Nairobi to Victoria Falls – Zambia
This is a glorious 21 day trip that takes travellers through Tanzania, Zanzibar Island, and then Zambia and everything the country has to offer, including Victoria Falls. However, getting there is a real adventure with stop offs at some amazing camp sites in beautiful settings which includes a stay at Kande Beach resort and Lake Malawi.
The package includes loads of optional extras like windsurfing in Malawi on Kande Beach and a full day's diving at Mnemba Atoll as well as a walk with the lions in Zambia to name but three that travellers can opt to take part in should they want to.
Game Parks to Victoria Falls
This is a 25 day package that incorporates game parks located in Kenya, Tanzania, Zanzibar and Zambia which culminates in a visit to the amazing Victoria Falls. The stop-over in Dar es Salaam on the Indian Ocean is a phenomenal experience but then so are many other things en-route which includes the mega Rift Valley.
Again, there are lots of optional extras for the traveller who wants that little bit more out of their African safari adventure. This includes a spell with some baby elephants and feeding giraffes as well a cycle through Hell's Gate in Kenya. For those who like an adrenal rush there's a full day's abseiling in Zambia or river rafting but there's a heap more things and places to visit en-route too.
Conclusion
Victoria Falls is an amazing location to visit and being able to feel the full force and power close up makes it an extremely thrilling experience. With a great choice of packages that take travellers through some of the most beautiful regions on the African continent, makes for an exciting journey of discovery from the word go.