Located in West African, Mauritania might be more famous for the military coup of 2005 than as a tourist destination but that doesn't mean that this beautiful country is not worthy as a top tourist destination. Featuring unspoilt dunes, wild coastlines and a warm climate, Mauritania is the perfect get away for those wishing to get off the beaten tourist track of Europe and head into Africa. Here we explore just a few of the highlights you can expect to experience in Mauritania.
Sand Mauritania is home to the Saharan dunes where seas of sand as far as the eye can see give way to deep canyons. Shaped and moved around by the wind, the dune fields are never the same one day to the next whilst their sheer expanse is hard to appreciate. There are a number of ways to explore these naturally shaped dunes. Firstly you can opt to trek through the sand on foot to appreciate them at ground level.
Here you will be faced with towering dunes and the rippled effects of natural in all its glory. If you're not feeling quite so energetic, view the dunes as the locals do – whilst riding a camel. Meander across the sands, taking in the delightful formations of dunes whilst being gently rocked back and forth by a camel. To truly appreciate the sheer scale of the Saharan Dunes, you really need to take to the air. Enjoy the swirling shapes and vast, magnificent landscape from the dizzying heights of a hot air balloon ride.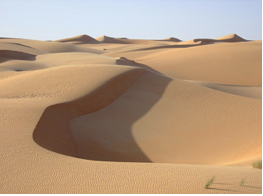 Mauritania is a country dominated by desert Image Source: https://farm1.staticflickr.com/107/315926787_9a4e0e3a3f.jpg 
Nature As the majority of Mauritania is ever-growing desert, animal life is sparse. However there is an abundance of bird life which flocks to enjoy the warmer climate as part of their migration route. The best place for bird-watching is the Parc National du Banc d'Arguin. The park is a world heritage site and here you will have the opportunity to view everything from flamingos to pelicans, sandpipers and terns. Predominantly featuring mudflats, you will not only be able to see the wide variety of birds who frequent the park but also an array of flora and fauna, perfectly evolved to live and thrive in this climate.
Ocean With a coastline spanning over 750km, it is no surprise that the ocean plays an important role in Mauritania. Bordering the North Atlantic Ocean, marine life is rich and this is perfectly seen when visiting the aptly named Dolphin Tribe located not far from Nouakchott. Here the tribesmen catch fish with not only the aid of nets but with dolphins too. This beautiful partnership means there is ample food for both the tribe and the dolphins. It really has to be seen to be believed.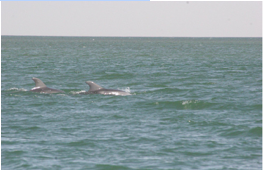 Man and dolphin in harmony in Mauritania
Image Source: https://farm1.staticflickr.com/115/315168428_1babc80f72.jpg 
History As well as a range of natural attractions, Mauritania also has a rich and varied history which can be explored too. Mauritania lies on the trans-Saharan trade route and therefore has both Roman and Arab history. A succession of European countries tried to stake claim to Mauritania and from the late 19th century the country was French controlled. Having won its independence in 1960, Mauritania has experienced political upheaval and a number of coups before democracy was restored in 2007. With such a vibrant history, there are a wide range of museums and historical sites to visit whilst in Mauritania.
Whether you are looking to get back to nature, enjoy some summer sun or absorb some of Africa's most fascinating attractions, history and culture, in Mauritania, which is well worth a visit.
Image Credits: John Spooner and John Spooner