WEEK 14
Still been unsuccessful in obtaining visas for Angola but we are confident about obtaining them further along the way. From Abuja we started heading up towards Wiki warm springs and started a 10-day stint of bush camping.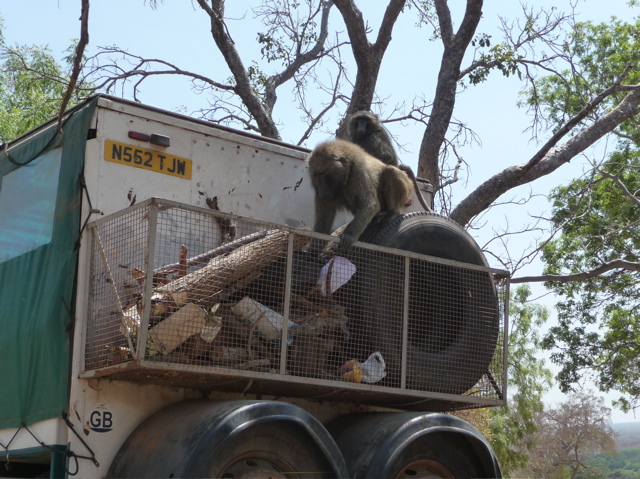 A crack team managed to infiltrate the truck
At Wiki warm springs we rock climbed, swam, had close encounters with elephants, and fended off multiple baboon attacks. We weren't, however, completely successful at fending off the baboons, as a crack team managed to infiltrate the truck stealing Walter's carrots and defecating on the cab.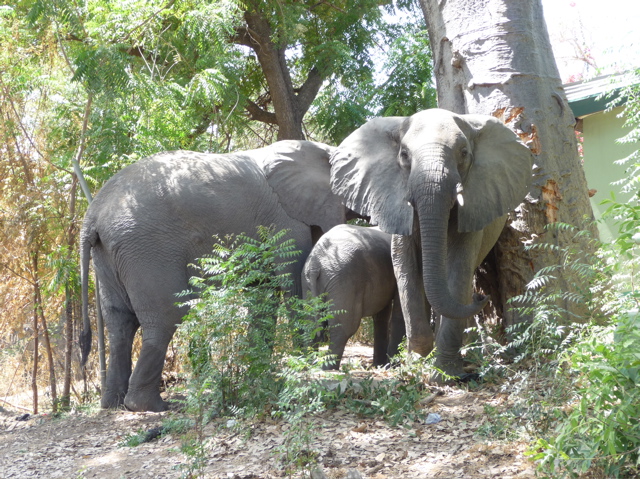 Christy and Joost got a little too close to the elephants whilst taking photos and had to climb a building after being charged
We headed back towards Abuja and were rejoined by Amy and Chesley. That nights bush camp was our last night with Christy and Ciara and we celebrated as only you do with that particular Irish pair, with lots of alcohol induced fun and frivolities. This did however cause quite a lot of chaos in the tents, with Carrie waking up lodged between Lance and Jose.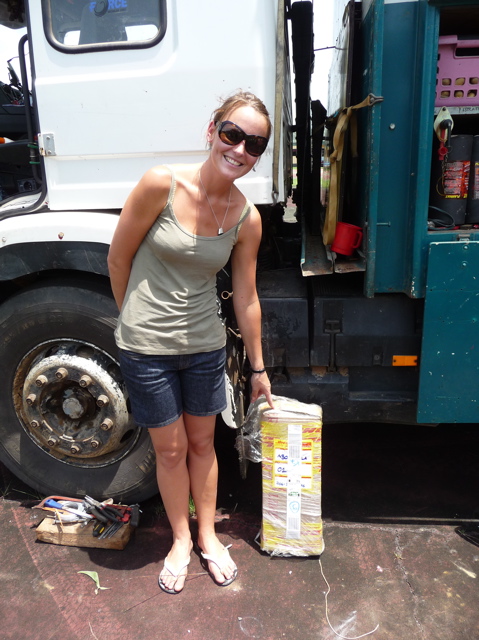 The truck parts arrive at last
It was a tearful goodbye the next morning as we push started their taxi which was bound for Abuja. We carried on and found a bush camp at a local school where we were greeted by the local chief complete with his big stick and local alcohol offerings (which he appeared to have had quite a few of). Subsequent conversations revealed he had spent between 37 years and 9 months and 39 years and 7 months in the Nigeria Army.
He, of course, was in the no shirts team and his glistening body collapsed on the ground at the end. The locals were all concerned about our cleanliness and insisted that we had showers.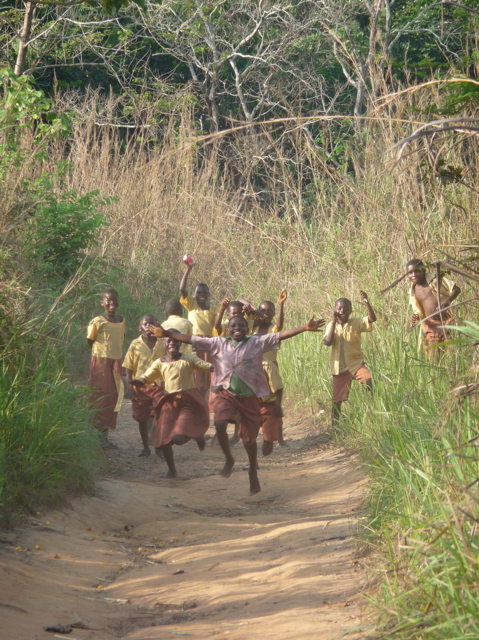 Happy to go to school, or happy to see us?
The following morning we witnessed the chief using his stick, with Lance saying "I get the impression that he uses that stick quite often", as the stick went flying towards a group of amused children.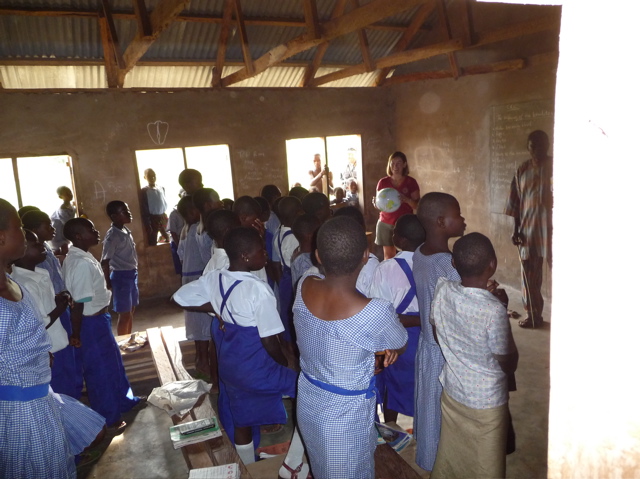 We were invited to enter the classroom and listened to them sing, later Chesley explained where we were all from
We hit the road and took the long distance route. We stopped at a town and did our housekeeping duties by getting the tents fixed, filled Ruby with diesel, and stocked up on supplies for the hard road ahead.
WEEK 15
That night we changed our 4th tyre in 10 days while staying at a school close to the Cameroon border.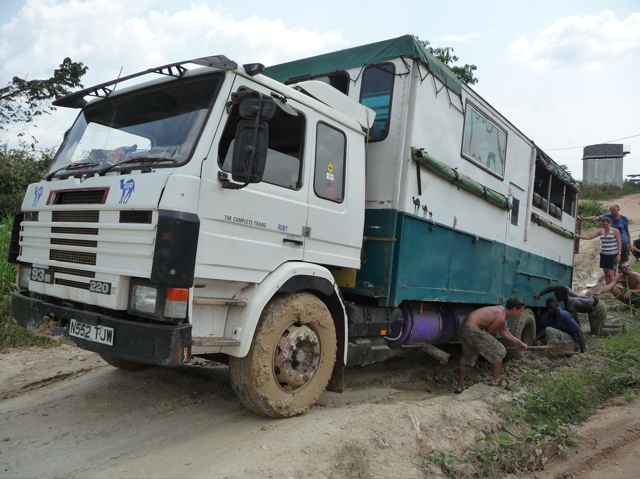 We were not disappointed and within a half hour of leaving the border Ruby was firmly stuck for over an hour
The Cameroon border was a cruisey crossing and we started the long awaited logging road. We were not disappointed and within a half hour of leaving the border Ruby was firmly stuck for over an hour. We had bottomed out in several inches of sticky, wet mud. The local bodybuilder-sized villagers, who were awarded with Whiskey, conveniently turned up within seconds to assist, and helped with advice and brute strength for pushing.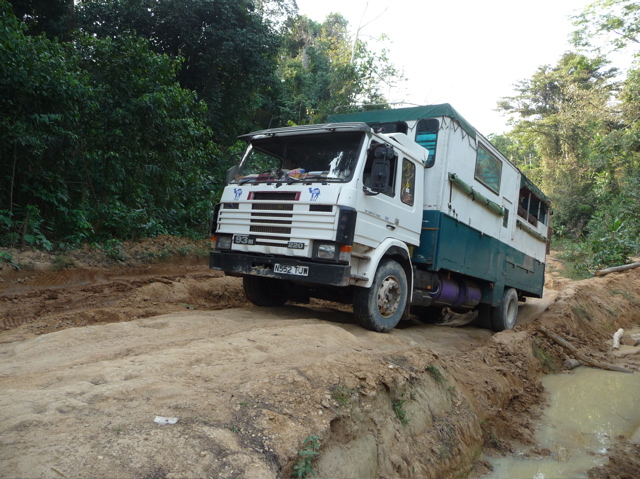 The fun continued for the next three days
We pretty much walked the road, stopping to prepare for Rubys crossing, bucketing mud out of holes, pick axing mounds to smooth the road and fill holes, and sawing trees.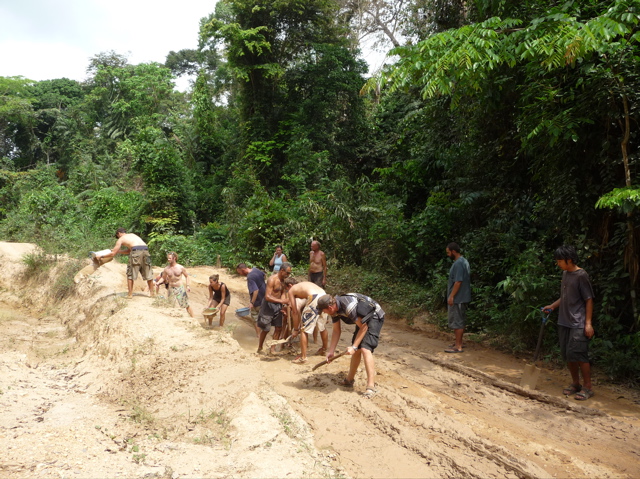 Prepping the road just for ourselves, skimming the mud away
We camped the last night on the logging road beside a big river where we all bathed, shaved, and washed clothing in the true African way. This was a welcome return to relative cleanliness after days of enduring a washing drought.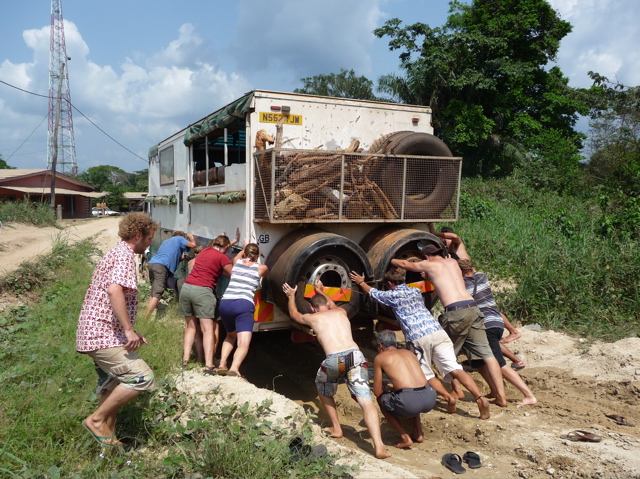 Push boys push!
We finally emerged from the logging road at Nguti, and camped at another hospital where once again we made the most of the facilities.Joost and Lee went in and got tested for Malaria with their results coming out positive. Both guys also came out with various other ailments, including salmonella and throat infections.
From Nguti we made our way to Kumba, where a very dodgy bridge required our own sand mats to establish a semi stable crossing. At Kumba we finally got some Cameroon currency, and stocked up on supplies.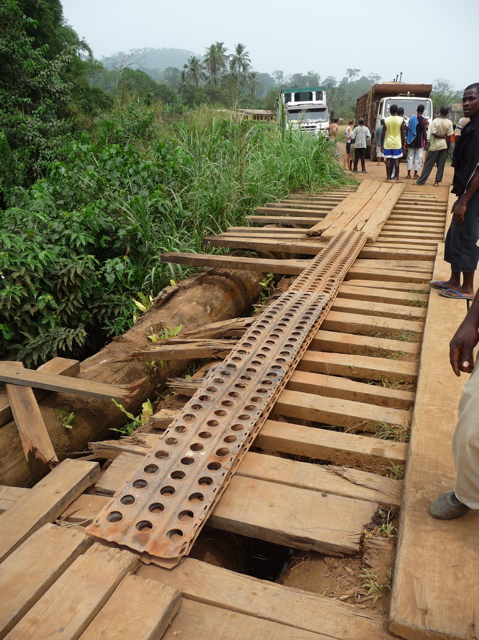 Bit of a tricky bridge
Another bushcamp beside road works where we had an unexpected visitor at midnight, Prince Ali, who really wanted to meet and talk to us. Walter was the only one that was lucky enough to talk to him. The Mount Cameroon climbers began organising their trip, and Willy got scared.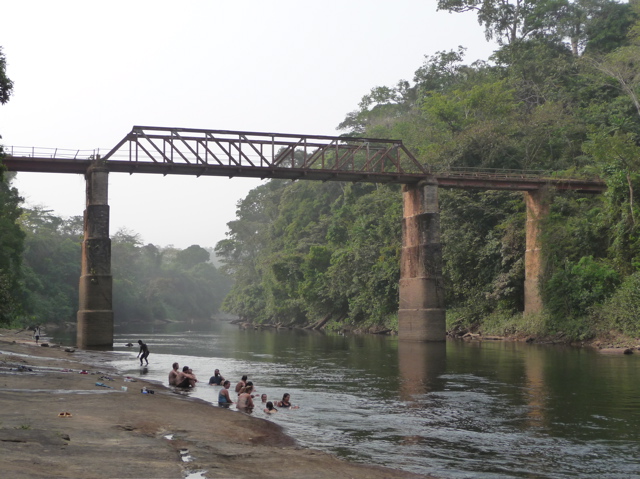 A beautiful bridge over quiet river in the jungle
We headed onto Limbe, where we thought we would be for 2 nights but ended up being for 5 nights. At this point Walter, Sue, Will, Carrie and Dean set off for their Mount Cameroon climb. The rest remained at the campsite, conveniently just around the corner from a delightful French bakery.
Mount Cameroon was successfully scaled by all those who attempted her. The reports were that it was highly enjoyable with "simply breathtaking" scenery, but very windy. Well done to all those guys and girls. The highest mountain in west and central Africa (the sixth highest mountain in Africa)…… fact.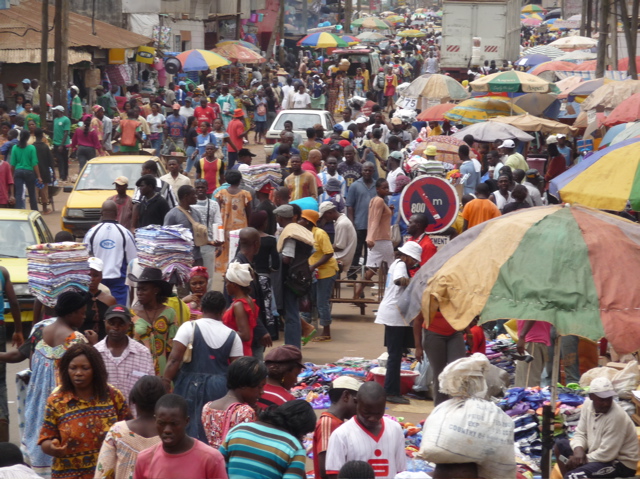 Limbe Market
Joost, Renier and Amy 'flew' on to Yaounde on the local buses with their eyes closed the whole way, to deny themselves the life threatening reality of travelling on African roads, in order to get Ren a new passport and obtain visas for the group for Gabon and the DRC.
WEEK 16
The truck arrived in Yaounde where we once again, conveniently, found a campsite around the corner from an even better local patisserie, and the search for Ruby's DHL package of parts began. After 5 days of waiting, and consuming lots of doughnuts (and lots of putting up and taking down of tents), we decided to head off towards Gabon leaving Amy behind (again….) to continue the search for our parts. After heading back to Douala and counting down many hours in the DHL office she finally took delivery of the much-needed parts.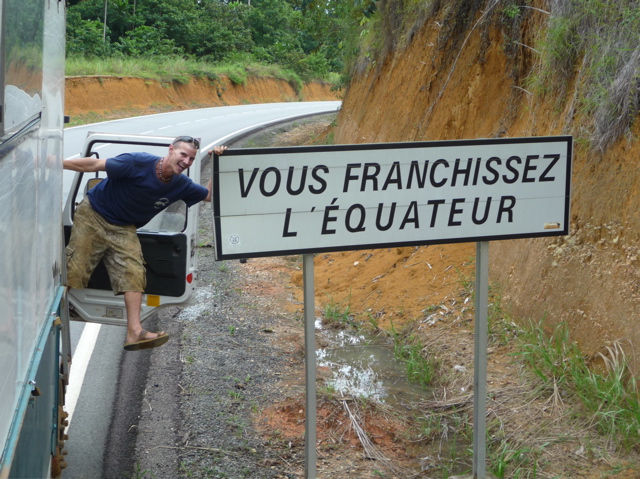 At Last the Equator in French
We did 3 bush camps on our way to Libreville. The first one was at another hospital where we sat around telling ghost stories. Willy later surprised Lee coming out of the toilet by covering himself in his black sleeping bag liner. Lee (apparently) then screamed like a little girl to the great amusement of all those still awake at the time, although he claims to have noticed Willy's odd coloured flip flops protruding out from underneath and was neither fooled nor scared by the whole event. The jury is still out as to whether or not we believe him.
The 2nd bushcamp was very eventful. Our flapping ritual was interrupted by a rainstorm that didn't stop until the middle of the night. We woke up in a huge puddle of mud. After trying for 4 hours, in vain, to get Ruby out of the mud we were rescued by Andre and Chesley's efforts to flag-down an empty logging truck. After a couple of strained towing efforts and some further digging we were pulled free and able to continue on our way. Much needed relief for our filthy bodies came in the form of a water pump at a nearby village.
Another bush camp; this time with no ghost stories, no rain, no mud and no drama. We then continued onto Libreville, and straight to the Angolan Embassy. We made it with minutes to spare before it closed, but were told to come back on Monday. We also met our latest additions to the truck, and gained a new nationality at the same time, when Scots Iain and Laura joined.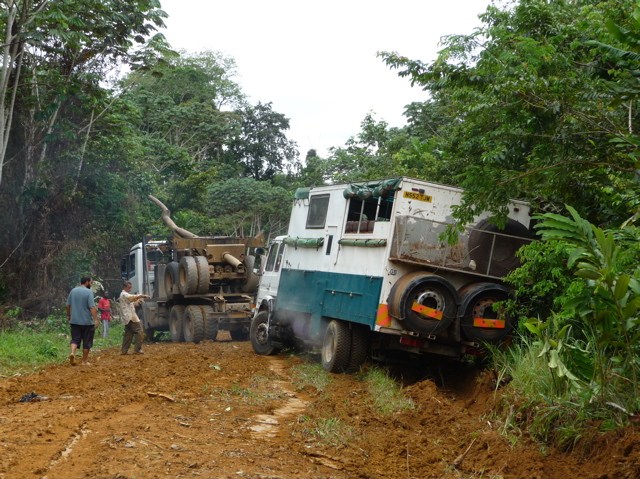 Just a little slip and a logging truck came to help
Amy returned, after being held up at immigration for a while, and the parts were installed on Ruby.
Our time in Libreville has been pretty lazy, mostly just trying to get out of the 45 degree centigrade heat during the day and the thunderstorms at night. Good pizzas have been found along with a hidden ten-pin bowling alley. Various assortments of meats have been sampled, with Rebecca once again being the most game and sampling chicken foot. Andre also celebrated his birthday by eating alligator. Much advantage has been taken of the toilet and shower facilities and lots of grooming has been done.
In a ridiculously expensive town like Libreville respite from the constant feeling you're just burning money was much needed, and this thankfully came in the form of cheap beer found just metres from the campsite. A sleepless night was had by all last night. With high humidity, no rain and complete lack of a breeze sleeping was a luxury not many enjoyed a lot of.
What a Sunset