Next stop Outjo
Here we needed to replenish supplies for the next few days, particularly for our stay in Etosha. We arrived in time to set up camp and get an afternoon game drive in. Quite a few Oryx and Zebra about, then we spotted our first Lion pride. After a long photo session we had to do a bit of a rally drive back and made it through the gate with barely a minute to spare!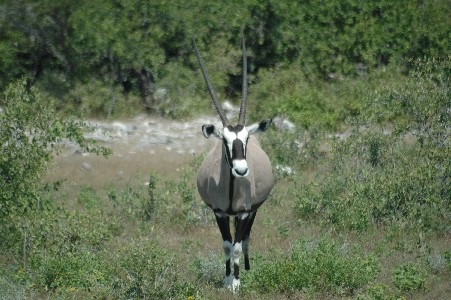 Quite a few Oryx and Zebra about
 Etosha Pan Zebras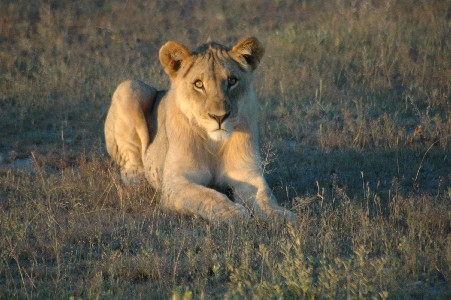 At last a real lion
The water hole at Okaukeujo is floodlit

many hours overnight were spent waiting for signs of life, rewarded handsomely with Rhino coming in for a drink. The next morning we were up early for another drive, unfortunately not much about, so upon return we had a big fry up breakfast to bolster us for the coming day. With camp packed away we again headed out on a long game drive towards the Halali rest camp.
More game about this time, with large herds of Zebra, Springbok and Red Hartebeest. No more large cats though, obviously sleeping off a big feed! The heat of the day started to become a bit much, so we retired to Halali and relaxed by the pool. There is also a floodlit waterhole there, so that was visited in the evening. More Rhino, Hyenas and smaller game, but no Leopards. Apparently it is one of the best places to see them, but our luck was out.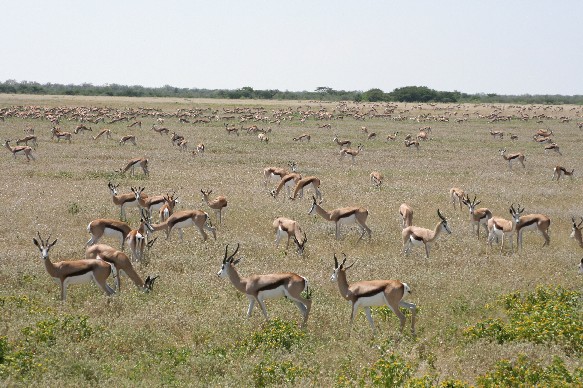 Too many deers
Still no signs of cats or even Elephants
We did spot a few Leopard Tortoise! Due to the rains, the normally dry pan was a lake, and the Etosha lookout was under water. As you can get out of your vehicle here we did so, albeit 500m from the actual spot. I tried to test the water and nearly lost my flip-flop in the mud! Trying to retrieve it I noticed a movement, there was a juvenile Cobra next to my hand! So a long stick persuaded it to move on before the shoe was rescued!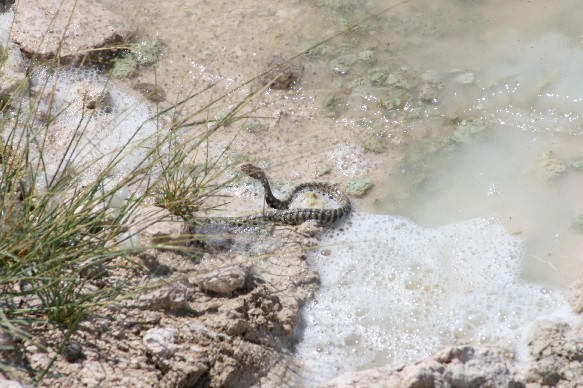 A juvenile Cobra
Tragedy averted we moved on to several other waterholes. This time we saw Zebra drinking and a load of Giraffe. Overall a good time in Etosha, but due to the heavy rains not a great deal about. That's nature for you; have to sometimes remind oneself that it is not a zoo! Leaving Etosha, we visited Grootfontein for a re-supply, and then headed northwards once again.
There was a possibility of visiting a San Bushman village
So after discussions the unanimous decision was to do so. The drive there was relatively easy except for the last 6km, which was a soft sandy track. Stuck only once we arrived to be greeted by the head man. We were then taken on a bush walk and shown medicinal plants, how they set snares, and some branches were collected to make San bows. The rest of the day was spent with the Bushmen and women making bows, jewellery, singing and dancing. The bows were then tested out on a grass Springbok, no great white hunters here I'm afraid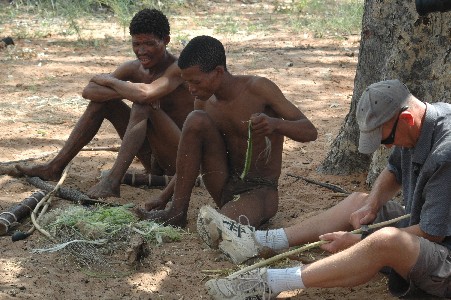 With the Bushmen making bows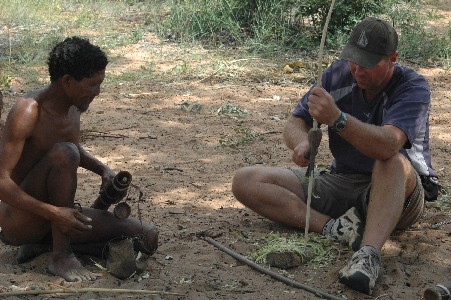 With the Bushmen making bows
The village is actually part of the community of Grashoek. It is a 'living museum' where the San can maintain their traditions and culture and earn money from the visitors. A fantastic experience was had. For more info on the Ju/'Hoansi – San living museum on the N#a Jaqna conservancy, visit www.lcfn.info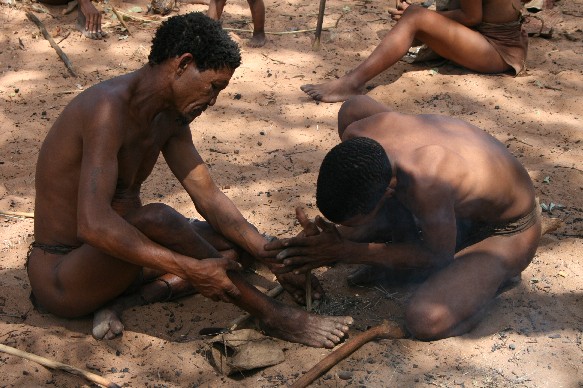 Men making fire with sticks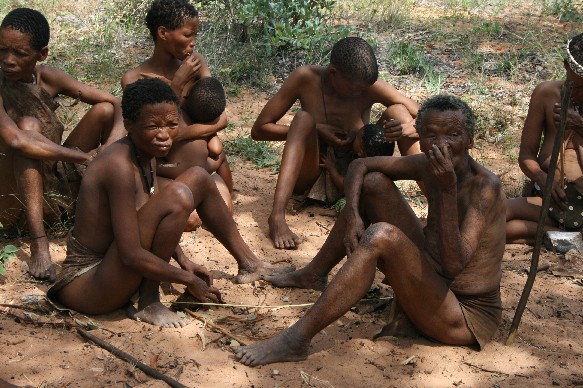 Bushman Family, Namibia
The night was spent camped near the village
We were visited by the local children. After playing football, giving them piggy backs and general mucking about, they eventually wore us out and we retired relatively early. The following day we made our way to Rundu, for a big stock up. We then had a big drive to the very edge of the Caprivi Strip before turning south. We stayed two nights at Ngepi camp on the banks of the Kavango River. A very relaxed time was had, amongst a majestic setting. The pool is a croc and hippo proof cage in the river, and the ablutions are amazing. All themed, there is the 'toilet of Eden', a 'view with a loo', and the favoured bathtub overlooking the river, amongst others.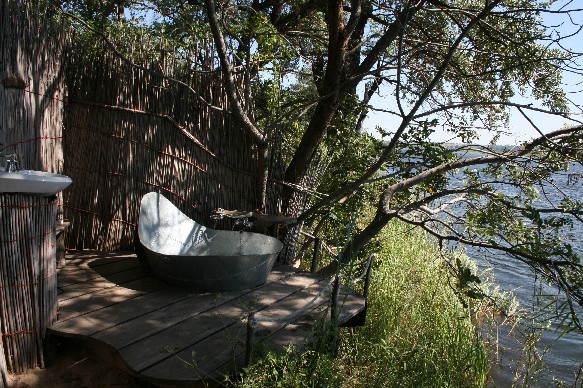 Ngepi camp on the banks of the Kavango River
Next was the mysterious Tsodilo hills.
Revered by the locals they are known as the Mountains of the gods. Lots of ancient rock art amongst "male, female and child" as the three hills are called.  The Okavango Delta is our forthcoming adventure.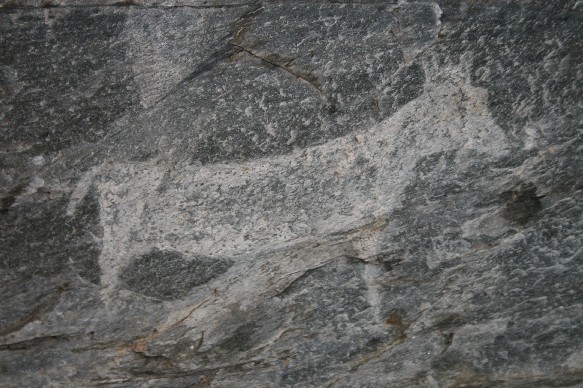 Tsodilo Hills ancient rock art