It goes without saying that Kenya boasts being among the best safari destinations the world has to offer. With over forty game reserves and national parks, it is hardly surprising that travellers find going on safari such an exciting adventure in these splendid lands. Over the years gorgeous lodges and tucked away camp-sites have appeared in spectacular settings where wild animals abound. When it comes to scenery, it really doesn't get much better with superb sunsets, magnificent waterfalls, majestic mountains and lush lakes. All this and then there's the Great Rift Valley to explore and beautiful beaches to lounge on.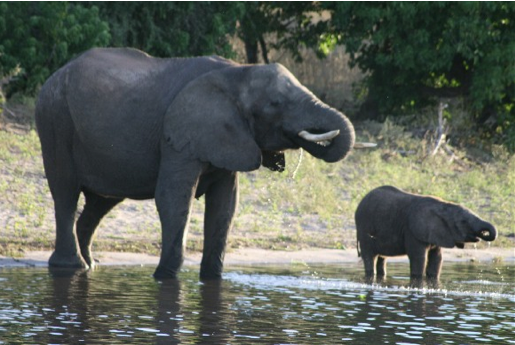 The elephants of the Maasai Mara National Park
Image source: https://www.africantrails.co.uk/wp-content/uploads/2008/05/eles-chobe-cruise.jpg
Maasai Mara
The most well-known of the parks is Maasai Mara, which attracts intrepid travellers from far distant shores throughout the year due to the superb game found in this splendid nature reserve. Then of course there's the amazing migration season when thousands upon thousands of wildebeest and other game along with many of their predators are on the move during the months of July and August. What has become known as the "Great Migration" is one of the highlights of a safari or overland trip in this fascinating and beautiful African country. The wildebeest, gazelles and zebras leave Tanzania's Serengeti as the dry season approaches and head north to Kenya and Maasai Mara where new, rich grasses are sprouting after the rains.
Hell's Gate National Park
Hell's Gate National Park boasts amazing landscapes. It's also known as Njorowa Gorge and is home to the rare Lammergeyer. The park covers more than 68 square kilometres of spectacular scenery and geological marvels in the form of cliffs and rocky outcrops that tower over the landscapes of the Rift Valley Province. It's in Hell's Gate that you'll encounter giraffe, zebra, and buffalo along with other big game animals.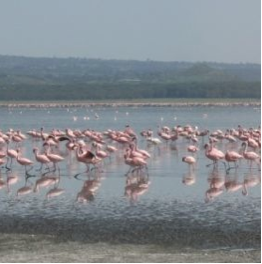 Flamingoes at the beautiful Lake Nakuru
Image source: https://www.africantrails.co.uk/images/tours/cache/thumb_img_3973-50ba072aba95d_adaptiveResize_280_280.jpg
Lake Nakuru
When it comes to pink flamingoes, Lake Nakuru has millions of them standing in the shallow waters along with rhino and lions dozing in tree branches. Around the lake you'll find a medley of other wildlife and game including cormorants, pelicans, baboons, leopards, giraffe, rock hyrax and waterbuck along with a variety of birds. The park boasts some amazing rocky cliffs, grasslands, marshlands and when it comes to tree cover there's splendid acacia woodlands and a Euphorbia Forest that offers respite from the sun. It is one of the "must go to" places in Kenya if only to see the millions of Greater and Lesser Flamingoes.
The best view points at the Lake are at Lion Hill and Baboon Hill where the superb landscapes can really be appreciated to the full. Other places where the views are spectacular are Enasoit Hill, Honeymoon Hill, Lion Hill Ridge
Lake Naivasha
This freshwater lake is situated in the Great Rift Valley and offers a great place to camp. There are literally hundreds of different species of birds and it's where you'll encounter lots of hippos, which you can take a boat out to see. However, in the evenings the hippos can be seen grazing along the shore on the lush grasses. The great thing about a stopover at Lake Naivasha is there's a choice of side trips that can be done from there.
Nairobi National Park
Travellers and visitors to Kenya love taking a tour around Nairobi National Park because this is one place you get to see a brilliant variety of animals and birds all living together in what has become known as one of the world's most unique parks that boasts such a great diversity of environments in an urban setting.
Conclusion
For centuries Kenya has attracted visitors to its shores and over time, this splendid African country with its rich and diverse landscapes, wildlife and brilliant cultures has continued to fascinate intrepid travellers from distant shores. Taking part in a safari in Kenya is a journey of pure delight and discovery!