The continent of Africa has a lot to boast about when it comes to tourist attractions and with the advent of the Internet, great mobile technology and a thriving e-commerce industry, African travel agents have seen a massive boost in not only consumer bookings but corporate businesses contacting them too.  A recent white paper shows just how much e-commerce is proving to be a massive boost to the African travel industry in more ways than one.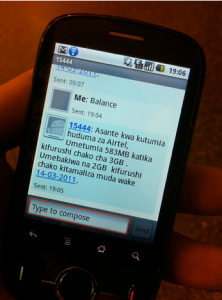 Mobile phones have opened up a whole new world in Africa
Image source: http://farm6.staticflickr.com/5132/5517805148_e9f1cf15fc.jpg
The Digital Savannah: Africa's E-commerce Promise
According to a white paper commissioned by Amadeus called "The Digital Savannah: Africa's e-commerce promise", the corporate sector throughout the African continent has been keen to get in on the act and reap the rewards that e-commerce together with online systems offers them.
The in-depth report took into account opportunities and trends where corporate travel booking was concerned as well as the online payment systems now available – even in some of the remotest areas of the African continent. The desire and interest to book travel arrangements online is on the increase and is expected to rise by another 20% in the not too distant future.
Five Trends Becoming Apparent
The report identified five specific trends developing throughout the African continent which are seen to affect how people decide things and which are impacting consumer behaviour when it comes to online travel booking and shopping preferences. These trends are as follows:
Satisfying a Specific Appetite
E-commerce is getting bigger throughout Africa but in its own unique way unlike its growth history in other developed areas and countries of the world. The reason for the differences is due to lack of infrastructure as well as capacity constraints but with another difference in that E-commerce is still very much in its infancy on the African continent in so far as it's still developing and establishing its own identity on how Africans would like to buy services and goods they find interesting.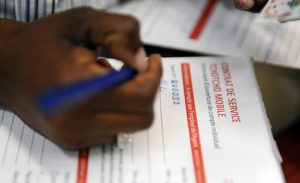 Mobile banking services available in the remotest regions
Image source: http://farm6.staticflickr.com/5136/5494590033_6f3048021f.jpg
Africa is a Continent, Not a Country
Africa is not a country, it is a continent where cultural tendencies play a vital role in how the E-commerce industry will ultimately develop and establish itself. Country-specific preferences as well as regional ones, indicate that although trends are developing, they are doing so in varying degrees depending on the regions and individual countries concerned. The one constant throughout the continent, however, is the mobile phone.
Africans Have Turned to Their Mobile Phones
Access to the Internet is somewhat lacking for many people, however, a mobile phone grants just about everyone a way to take advantage of mobile payment systems and online banking services with networks providing a strong presence throughout the continent, even in some of the more remote regions.
Business Travel in Africa is on the Increase
Business travel on the African continent is growing with more and more people preferring to book their travel arrangements online. At the moment this figure stands at around 50% of businesses in Africa choosing to make online bookings with travel agents, and this figure is set to rise by at least 20% in the short term.
The white paper shows that corporate policies in Africa lean towards a preference to book travel arrangements via a centralised system. This is the first study of its kind and it shows that although E-commerce is indeed impacting how people book their travel arrangements, it does strongly suggest that "no one solution" will fit all countries or regions of the African continent whether it's focus is on the consumer or corporate businesses.
Conclusion
E-commerce has opened up the African continent like never before and paired with mobile technology and a tremendously strong physical presence established by network providers, it allows even people in the remotest regions to benefit from online payment systems and banking services.  As such e-commerce is proving to be a massive boost to the African travel industry and the good news is, it's on the rise.
Image credits: Wayan Vota and United States Government Work