If you are new to the world of camping it can be easy to get confused with some of the jargon and terminology that you are hearing. Don't be put off by what sounds like a complex hobby, learn more about the jargon and terminology and you will be all set for a camping trip that is a lot of fun.
Equipment
When you are camping you need to get the equipment right and with our jargon buster you can understand what various terms mean before you set off.
GPS – this is your Global Positioning System and something that a lot of campers will use, especially if they are going off the beaten track. 
Dome tent – a tent that is shaped like a dome that has flexible fibreglass poles for ease of use.
GSM – this is a term used when talking about how warm a sleeping bag is. If you find that one has a GSM (grams per square meter) number that is high this will be very warm.
Citronella – if you have a problem with insects you can use this as a repellent. You can find these in spray form or as candles which can be really helpful to avoid being bitten.
Taped seams – these are important when you are buying a tent as it means that all of the seams of the tent have been sealed to ensure that they are waterproof.
Cyalume light stick – these are cheap but useful sticks which contain chemicals that when activated will create a low level of light that can be used for a few hours. 
Ground sheet – a waterproof sheet that is put under a tent before it is pitched to provide extra warmth and dryness for the people inside. 
A-frame Tent – this is a type of tent that most people will have seen before. They have a classic design and are easy to put up and can withstand wind and rain.
Rain bag – a bag which should be waterproof in which you will need to keep a set of dry and clean clothes for each person, just in case the worst happens and everyone gets soaked to the skin.
Out and About
Bearing – this is your orientation on a compass.
Cross bearings – this is a method that is used to determine your position on a map.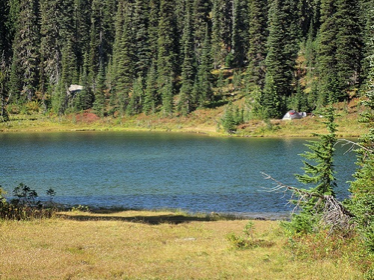 Base camp – this is where you will be staying and pitching your tent.
Picking a great location is a vital part of camping.
Image source: http://farm4.staticflickr.com/3501/3956549650_7321803ccc.jpg 
Circle Plan – a term that is used for setting up a campsite and then deciding on the radius that you will be venturing into. Do this when you are in unfamiliar territory and you want to make sure that you always know your position. 
Fire pit – this is a dug out hole that can be used to protect a fire in camp and prevent it from being blown out by the wind.
Hiking trail – if you see this sign you are entering a part of the area where hiking on foot is the only form of permitted travel.
Horse trail – this is a trail that allows people to walk on foot or on horseback.
Jerry can – you will use one of these to keep your water in and it should be taken everywhere with you to provide a source of water.
Kindling – this is the name given for light sticks, twigs, grass and leaves that can be used to start a fire.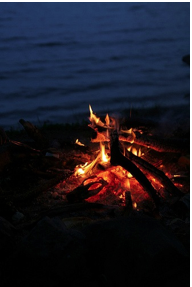 Kindling is great for starting campfires.
Image source: http://farm5.staticflickr.com/4143/4877961040_65b1a4feb7.jpg 
Conclusion
There are of course many different terms and names that are related to camping, but these are some of the main ones that you will probably come across. Take notice of them and you will have a really enjoyable camping trip that will encourage you to do it again in the future.
Image credits: Cruiznbye and ilkerender