You may think that travelling alone on safari in Africa might be a scary experience, but in truth you'll be in the company of like-minded adventurers who are out to enjoy an experience of a lifetime on a superb continent full of diverse landscapes and cultures. The safari adventures we organise offer single people the chance to go on a superb journey through some of the most beautiful landscapes, game reserves and parks Africa has to offer in a safe and friendly environment whether you choose to explore Botswana, Zambia, Namibia or other spectacular regions and countries of Africa we travel through.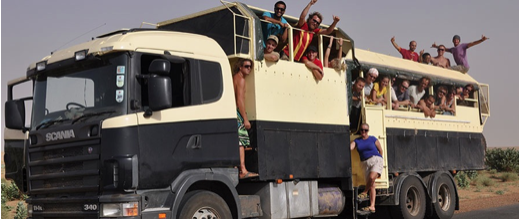 Travelling alone on one of our overland trips and safaris means joining the group!
Image source: https://www.africantrails.co.uk/images/at-7.jpg
Joining Forces with Like Minded Adventure Enthusiasts
Joining forces with other people who share your enthusiasm for adventure in new and fascinating lands, allows you to not only stay safe when on one of our safaris, but it allows you to make new friend and soul mates too. You get to explore and discover some of the most beautiful regions of this vast continent with many of the areas being totally unspoilt and you'll never be on your own unless you want a moment to yourself!
Discovering Wildlife in Their Natural Habitat
You may have seen loads of photos of native African wildlife whether on the Internet or on television programmes, but nothing prepares you for the splendour of seeing these animals in their natural habitats with many travellers telling of their encounters with a lion, giraffes, gorillas or other species being life changing experiences never to be forgotten. Just because you have to travel "solo" for whatever reason, does not mean you have to miss out on this type of safari experience because there are other people just like you on the trip too!
Choosing an Itinerary is Easy
Travelling alone does not mean you're restricted to where you can travel to when on safari with us and you won't need to pay a single-person supplement when you book your adventure overland holiday either. Many people travel solo and many travel in pairs or as a couple, but once on board the truck, the friendly environment makes it a fun journey of discovery that everyone enjoys being a part of.
Browsing through our safaris and overland adventures, you'll see everyone on the trip enjoys a very social environment both during the day and then in the evening around a campfire and at the wonderful camp sites we use for overnight stays. Everyone has the chance to be part of the group or to have a moment alone should they want to – the choice is yours!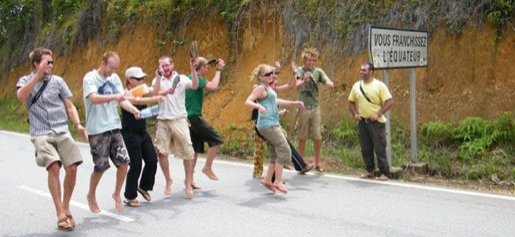 Crossing the equator is an exciting experience!
Image source: https://www.africantrails.co.uk/images/galleries/38/cache/thumb_crossing-the-equator_adaptiveResize_624_288.jpg
Feeling Safe is Not an Issue
Staying and feeling safe whilst on safari is crucial which is why we offer everyone who travels overland in one of our 4 x 4 trucks and vehicles an environment that promotes a feeling of safety and wellbeing. Single travellers abound when it comes to overland trips across some of the most beautiful regions and countries in Africa which allows them to share unique experiences with other people who share a passion for travel and adventure as they explore all the superb places en route to the final destination.
Conclusion
Although you may feel nervous when you first arrive, the feeling soon passes as you meet up with fellow travellers who are taking part in the African adventure. The excitement of the occasion takes over as everyone prepares for a journey of discovery across the beautiful plains, savannas and other gorgeous regions of one of the world's most beautiful and varied continents!