If you're hoping to go on safari in Africa during a migration season and have set your heart on being in Tanzania's beautiful and vast Serengeti region, the good news is the season lasts a good nine months. One of the best places to start your adventure is in Arusha which means you could get a few welcomed beach breaks as well as other road adventures to game reserves located in southern Tanzania incorporated into a trip of a lifetime. With this said migration seasons are busy so you need to be prepared to keep up with the pace!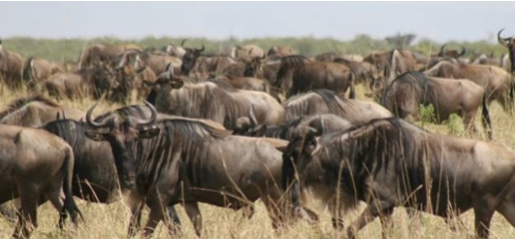 An estimated 1.5 million wildebeest migrate in the Serengeti
Image source: https://www.africantrails.co.uk/images/galleries/22/cache/thumb_masai%20mara%20(3)_adaptiveResize_624_288.JPG
An Estimated 1.5 Million Wildebeest on the Move
With an amazing number of wildebeest, zebra and gazelle on the move closely followed by many of their predators, it can be a pretty exciting time. Going on a safari is an amazing experience at the best of times and during migration, it gets even better. However, resident game will always be seen in their home habitats all year round so depending on which route you take, you will come across some pretty amazing sights whether it includes migratory game.
Planning to be on safari during the migrations means coping with a much busier time in the region all round. These days the vast movements of wildlife attracts a huge audience which means that surrounding areas also tend to have a lot more visitors staying at hotels, camp sites and other types of accommodation found in and around the region. This in turn does mean that things are more expensive too with the larger hotels and lodges being full to capacity even outside of the Serengeti game park.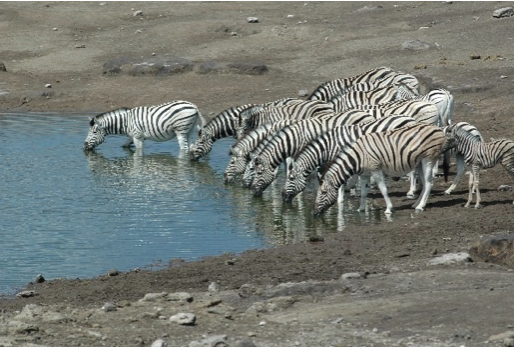 Photo opportunities are spectacular during migrations
Image source: https://www.africantrails.co.uk/wp-content/uploads/2008/05/zebra-etosha.jpg
Choosing a Smaller Outfit Makes Sense
Choosing to go on safari with a smaller outfit during the migration season in the Serengeti makes sense because there's more flexibility when it comes to where you get to go at any particular time, unlike larger concerns which tend to stick to a very rigid routine. This means you get to arrive at particular sites way before the crowds get there so you can be sitting having a relaxing breakfast in the shade of a tree waiting for the excitement to begin! In short, during migration season, you get much better value for money if you travel on safari with a smaller, well run outfit that boasts dedicated and helpful guides.
Top Standards & Dedicated Guides
When it comes to dedicated guides, these guys go out of their way to make a trip one of the best you'll ever take part in and who will make every effort to ensure you get the best photo of the game you encounter during migration. We are proud to be right up there with the very best and we know that getting those all-important images and experiencing an African migration right there where it's happening, often means more to our intrepid travellers than a few creature comforts. With this said, the evenings are superb as people gather around the camp fire to recount the events of their extremely exciting day.
Conclusion
The migrations season in the Serengeti last a good part of the year, which means you've got more scope when you plan an overland trip and safari in what is one of the most beautiful and exciting regions of Tanzania. From the moment you arrive to your first sighting of herds of wildebeest, gazelles and zebras, we do everything to make sure you get the best out of your trip in every single way. The photo opportunities are brilliant during migrations in the Serengeti which means taking a good camera and lenses with you is essential!