A francophone country, tourists have been attracted to Senegal ever since the first Club Med resort was set up here in the 1970s. In particular drawn by the beautiful beaches and luxury beach resorts, there's a lot more to Senegal than just sun and sand.
1) Jazz festivals – St Louis
The most characteristically French colonial destination in West Africa, St Louis is on an island and preserves much of its 19th century character. Since becoming a World Heritage Site in 2000, many of the historic buildings are now being preserved, or converted into restaurants and hotels. At the mouth of the Senegal River, there is an interesting system of quays that give the town a very distinctive identity. Hosting Africa's number one jazz festival, jazz has been important here since the 1930s. 
Easily reached from St Louis are two significant areas of outstanding beauty well worth a visit for nature lovers. The Langue de Barbarie National Park and the Djoudj National Bird Sanctuary are located where the Senegal River meets the sea. Here are some of the most important wetlands in Africa, home to hundreds of species of birds and to wildlife. 
2) History of slavery – Île de Gorée 
In effect a suburb of Dakar, Gorée Island is a small island two kilometres out from Dakar's main harbour.  Many visitors come here to learn about the old Atlantic slave trade, even if relatively speaking, fewer slaves were processed or transported from here than places like St Louis. You can stay in the homes of families, explore the quiet streets and intermingle with the local people. There are three little museums worth looking at (women, history and maritime) and a castle.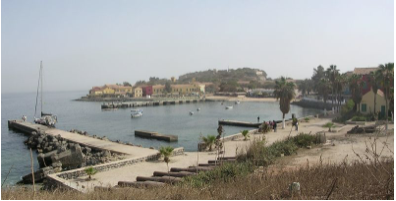 Gorée Island – Dakar, Senegal
Image Source: http://upload.wikimedia.org/wikipedia/commons/thumb/e/e2/2007-02-13_Ile_de_Goree_D_Bruyere.JPG/640px-2007-02-13_Ile_de_Goree_D_Bruyere.JPG 
3) Pilgrimage and religion – Mouride holy centre of Touba
Touba is the holy city of Mouridism in central Senegal. Here the founder, Shaikh Aamadu Bàmba Mbàkke is buried. Beside his tomb is the huge mosque that was completed in 1963 and is one of the largest in Africa. It has five minarets and three large domes. The central minaret stands at 87 metres (285 feet) and is one of Senegal's most famous monuments. Every year one to two million pilgrims come for the Grand Magal from all over Senegal and beyond.
Touba is sacred to Mourrides and the Mouride order maintains absolute control over its "capital." The city is administratively autonomous with a special legal status within Senegal.  Strictly Muslim, it is forbidden to drink alcohol, smoke tobacco, play games, music or dance. The order manages education, health, the water supply, public works and so on independently of the state.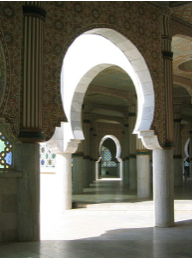 Interior of a mosque in Touba http://upload.wikimedia.org/wikipedia/commons/thumb/d/dc/Touba_moschee2.jpg/360px-Touba_moschee2.jpg
4) Villages and locals culture – Basse Casamance National Park
Located in the far southwest, you can go on ecotourism and tropical forest excursions. If you want to enjoy the beach, there is also a coastal beach resort. Owing to the Cassamance conflict this area is less developed and many areas are even off limits due to the risk from landmines. However there are some companies still running eco- style tours, visiting villages that provide an insight into local culture and life. 
You can explore villages, see the local telephone tam-tam and travel out to sea in a pirogue (dug-out canoe).  With a strong tradition of animism you can visit shamans (witch doctors) on some of the islands. You get a chance to interact with farmers, young people who perform live dance and percussion shows, and villagers making batik and crafts. You can learn about Senegalese cooking (a delicious mix of French with exotic local produce), or try the local Sabar dance steps.
5) Plant a tree and nature – Saloum Delta National Park 
A large area of mangrove estuaries and islands, this area is primarily visited by tourists for its wildlife. Wildlife including hyenas and jackals live here and it is a bird watcher's paradise. It has cultural interest too, and is the home of the minority Serer people, the River Saloum delta area is where to go for eco-tourism practice.
The Palmarin rural community live on the edge of the Petite-Côte and are engaged in traditional fishing and tourism. Here tourists can contribute directly to the area's environmental well being by purchasing carbon offsets in the form of trees. 
Out of the twenty ethnic groups in Senegal, the most ancient group and third in terms of numbers are the Serer people (about 15% of the population). As well as the clam shell mounds, their ancestors built Senegambian stone circles.
Conclusion
Wherever you go in Senegal there is a fascinating variety of places to visit, make sure you rent a car, Senegal is a vast country to visit. Attractions include St Louis with its jazz and colonial atmosphere; Touba with its religious significance; Gorée Island and its history; or the rural people and natural environment of the Casamance and Saloum. There's much more to Senegal than just beach resorts and rolling Atlantic surf.