Kenya is the one safari destination that many people dream of visiting so they get to see the superb savannas, gorgeous rainforests and splendid mountains. Vast herds of wildebeest, zebras and other wildlife abound in the many parks and game reserves and for the last few decades, wonderful camp-sites of every kind have sprung up in the most beautiful settings the country has to offer.
A Safari adventure to Kenya needs a little bit of planning but that's just the start of a fascinating journey through landscapes which are often out of this world. Below are 10 national parks in Kenya that will simply take your breath away.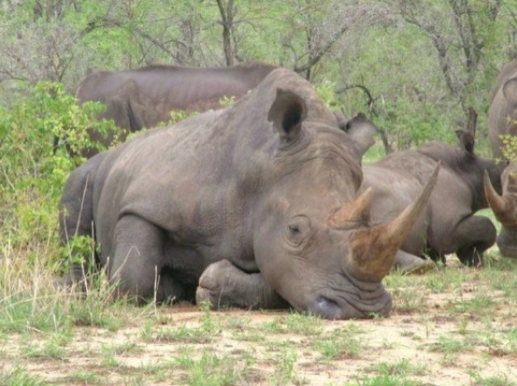 Kenya boasts the Big Five – including superb rhinos
Image source: https://www.africantrails.co.uk/images/galleries/15/cache/thumb_n693211582_105944_4456_adaptiveResize_624_288.jpg
Maasai Mara Game Reserve
Often referred to as the greatest wildlife spectacle on the planet, the migration season of the Maasai Mara game reserve which starts around the middle of June and lasts right through to October, is simply astonishing. Millions of herbivores native to the African continent are drawn to the lush grasses of the reserve closely followed by teams of predators from lions, cheetahs to crocodiles lurking beneath murky waters.
Tsavo National Parks
Tsavo West and Tsavo East National Parks are the largest protected areas in Kenya which boast incredible landscapes and wilderness areas that are second to none. It's in Tsavo National Parks that intrepid travellers get to see the "big five" namely lions, leopards, elephants, buffalo and rhino which is pretty much guaranteed to happen every single day!
Amboseli National Park
With Mount Kilimanjaro as a backdrop, Amboseli National Park boasts being home to the largest tuskers (elephants) in Africa and the best part is you can get pretty close to these massive, proud animals. It's a superb park to visit that offers a picture postcard image of what many people think an African safari should be!
Lake Nakuru National Park
When it comes to fabulous Kenyan game reserves, the park is situated right in the heart of the Rift Valley around an amazing salt-water lake where millions of pink flamingos, pelicans and other birds congregate. It's one of the must go to places in Kenya where you get to see black and white rhinos, prides of lions and hoards of baboons as well as the lovely colobus monkeys. There are Rothschild giraffes, now considered an endangered species as well as some rather elusive leopards in the park too offering visitors a really diverse safari experience that has it all.
Elephants, rhinos, leopards, lions – Kenya has them all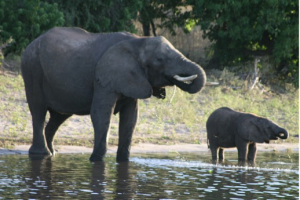 Aberdare National Park
This dense rainforest and moorland park is home to a variety of wildlife from bongo antelope, elephants and black leopards to name but a few. However, spotting wildlife in this lush park is a lot harder simply because of all the vegetation. But with this said, it makes for an exciting safari experience as the quest to capture an image of a shy antelope or lurking leopard becomes a real mission.
Kakamega Forest
Located in the western highlands, Kakamega Forest boasts being a real paradise where a unique rainforest ecosystem is home to more than 330 species of birds, an amazing 400 species of butterfly and 7 species of monkeys including one of the rarest on the planet, namely the Brazza monkey. Visiting this stunning park is like walking into another world where time really has stood still.
Meru National Park
With Mount Kenya as a backdrop, Meru National Park is less visited than most others which is a bit surprising because its home to the descendants of Joy Adamson's lions of Born Free fame as well as a host of other fascinating creatures. Mount Kenya is the second highest mountain in Africa and is one of the most stunning peaks in the Rift Valley.
Laikipia Plateau
Laikipia Plateau is a privately run affair that boasts some superb eco-friendly lodges and it's one place where you are guaranteed to see the endangered black rhino as well as Grevy's zebra and African wild dogs along with lions and many other species of animals. There are many privately run conservancies in Kenya and it's thought this is an effective way to conserve Africa's stunning wildlife population with many people believing it is the way forward.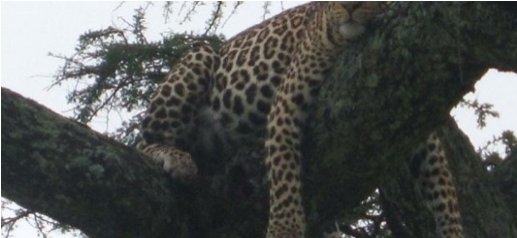 Kenya boasts some of the most amazing reserves and national parks
Image source: https://www.africantrails.co.uk/images/galleries/28/cache/thumb_DSCF1320_adaptiveResize_624_288.JPG
Nairobi National Park
Back in the 19th century lions frequently roamed the streets of Nairobi and today, this unique park sees wildlife as close as it will ever be to an urban environment. It's a small park but it boasts being home to rhinos, giraffe, buffalo and big cats all in plain view of the city's skyscrapers making it a pretty surreal experience. The park boasts over 400 species of birds too.
Marsabit National Park
The park boasts Africa's most stunning and spectacular forests which are home to leopards, elephants and lions all of which appear out of the forests into clearings at dawn and then vanishing again at dusk. Because the park is in the far north, not many travellers visit Marsabit National Park although if you are keen to take part in a walking safari, this is the perfect choice! This is one park that should definitely be put on a must go to list for the intrepid explorer.
Conclusion
The beauty of all the parks and game reserves in Kenya is that you are guaranteed to stay in lovely campsites no matter where you happen to go. If you prefer to go on a mobile safari, the option is there and it is the best way to get a real feel for this truly amazing country and all it has to offer.