About Us
African Trails have been running overland camping safaris since the 1980's, we have over 30 years' experience. Our aim is for you to have a memorable and rewarding experience at a cost you can afford. We offer the services of a trained crew, well maintained modern vehicles and equipment.
Our overland safari leaders are all experienced travelers, trained in African and Asianoverlanding. Their enthusiasm, experience and knowledge of the countries we travel through ensures you will have a rewarding trip. They are proficient in mechanics and are qualified drivers. Whilst they have a good knowledge of the regions we travel, they're not tour guides; so at many sites we use local guides for an in-depth view.
About You
Most of our passengers are in their 20's to 40's and although we do not operate an upper age limit, you need to be in good health and be keen to get involved to come along. There is no particular type of person that comes on our trips. Although predominantly Australian, New Zealand, British, Irish, North and South American and European, our travelers come from all walks of life and cultures. Don't be bothered about traveling alone as many do and it doesn't take long to get to know others on the trip.
Our trips encourage you to be hands-on; so you can go shopping in the markets, mix with the locals and even organise your own side trips in addition to what the crew can organise for you.
We run our safaris with one crew member, as we have done for over 30 years. Having one crew gets you involved in the day to day running of the trip and also gives you more freedom on the trip, so you can do what you want to do. People come to Africa to experience it and feel it but they may not get the same experience when a tour leader is constantly organising everything for them. This type of interactive safari that we run gets you more engaged in Africa; making the safari a much more memorable experience.
Overlanding
Overlanding is the best way of traveling when you want to cover long distances off the beaten track. It lets us reach hard to get to unforgettable places. It's an adventure tour through the wilderness; immersing you in the sights, sounds and people of the real Africa and Asia. It's the ultimate trip, African and Asian overlanding is the safest, most sociable, cost effective and easiest way to travel; plus you get to stay in out of the way places.
Our trips in North, South, East & West Africa; and Asia, range from 6 days to 38 weeks.
Our Prices & Value for Money
We run group tours (up to 28 people); our pricing is per person based on running a whole truck, not just the cost of a tour for one person. We don't employ heaps of people front-end (marketing, admin) etc. and all our marketing costs are online (no brochures - we like trees) so, as a result, our costs are low. Don't just take our word for it, read it here. Atranslation is here
The cost of visiting national parks, scenery and animals are all the same; no matter how much you pay and to which operator. Our vehicles are late-model, air sprung trucks (very important for comfort) and a lot more reliable. They are also much more fuel-efficient than a lot of other operator's vehicles (so better for the environment).The sleeping mattresses we provide as standard on our East and Southern African tours have been described as "extremely comfortable" – we don't ask you to bring your own mats.
If you are looking for fun, adventure and memories; if you wish to get involved in the day to day activities of your safari, such as drawing water from wells and buying food in local markets, then our African expeditions are for you.
Booking our tours
You can book our trips from anywhere in the world with confidence that you'll get the best price as we don't add a premium for different currencies, unlike some other companies.
By booking and paying online your payment will be automatically converted to the UK price at the exchange rate of the day.
Testimonial - Don't just take our word for it…click here
Money does not talk about it! And the whole thing was not cheap anyway. But not expensive.
"I've flirted with a longer, extraordinary journey for quite some time. First, I ordered a Rotel catalog. But I quickly found that there me definitely the sleeping cabins are too small. Many catalogs landed in my mailbox. The first Moja catalog was not one of my favorites, because the flights were not included in the price.
I had many reservations in advance. One or the other of you has certainly noticed. Malaria (well, I can get), 6 weeks in a tent with 47 and, and, and.
I do not like all-inclusive vacations. So also was not a lodge holiday for me question. I wanted as much as possible the right to know Africa. Of overlanding I had not heard until then. But what was in there so Moja catalog, was not bad. I had no real preferences. I was never in Africa. The decisive factor was the end, that I would get a separate tent in Africa trails and was allowed to bring my own tent. With budget travel had relatively little to do. I booked without great additional providers to compare.
During my trip I saw many other trucks. Some I have seen from the inside and with many people I have spoken. Africa trails is probably by far the cheapest provider, but in the services, providers almost indistinguishable.
Okay, in Africa trails the driver is also Tourleader and sometimes cook. Cook mostly the passengers. There are other companies that have an extra tour guide, a few beyond even a cook. Do we need it?
Tim was a great driver, cook and tour guide in one. And the last week with Eddie was the icing. Africa Trails has finished out the tour with me and me alone donated a flight from Maun to Joburg; there should be no complaints.
Hats off to Africa Trails! It was just awesome!"
The Expedition Vehicles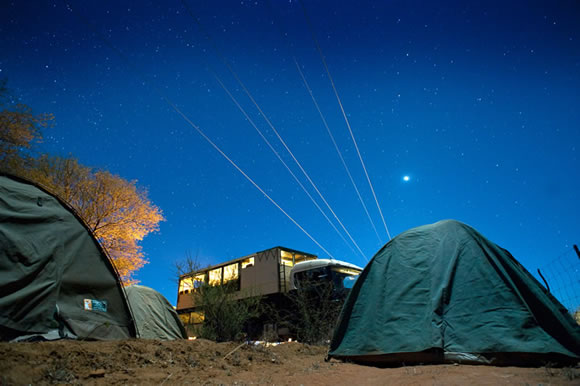 African Trails' safari trucks are designed and built for overlanding. We operate all our own vehicles from our safari workshop. Here our trucks are serviced and maintained, enabling us to provide you with safe reliable transport. Most of our trucks are late model Scania's with Euro 4, fuel efficient and enviro-friendly motors with safety features such as ABS anti-lock braking and air-ride suspension for a much smoother ride.
In Southern Africa and on trips with certain numbers we use; Landrover 4x4 and vans.
The African tour trucks are fitted with comfortable inward and forward facing coach seats. A wide aisle gives you loads of leg room and lots of space to move around in, this makes the back of the truck a great place to socialise.
Our vehicle design has evolved over the years to provide the most practical and comfortable vehicles for our African travel.
Our Safari trucks are equipped with:
Tarpaulin sides with clear windows providing all round viewing. Rolled up most of the time on safari they can be tied down in cold or wet weather.
Most of the safari trucks have an additional elevated viewing platform at the front of the truck; this offers great views and excellent photographic opportunities for game viewing of wild animals.
There are lockers for your backpack, accessible from inside our safari truck; a communal safe for your valuables; and a medical kit for emergency use.
Interior lighting for reading plus exterior lights for cooking on safari.
Amplifiers and attachments for personal CD players so you can listen to your own music.
There is ample storage for food enabling us to buy bulk along the way.
We carry over 200 litres of water.
Extra fuel tanks, for those long runs and fuel shortages.
Cooking equipment and eating utensils.
Roomy, easy to erect tents.
We sit on camp stools on African tours and throw mats to relax on the sand in the Middle East.
Cooler boxes keep the drinks chilled.
Fire grills are used for BBQ's with gas as a backup.
Camp tables for preparing meals on; under an all weather awning in case it rains.