Eastern Africa Tours & Overlands : 9 to 56 Days
Depart Nairobi or Dar, Heading South:

Northbound: 9 to 56 Days
Cape Town, J'burg & Vic Falls Heading North:

Southern Africa Trips
9 to 21 Days: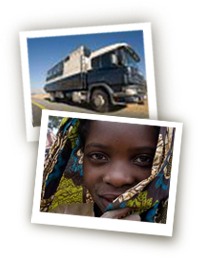 Travel Africa overland on the safari adventure of your lifetime!
African Trails has been running camping safaris using overland trucks to take groups of people around the whole of Africa since 1980. Running trips from 5 day game park tours to 39 week Trans Africa overlands, we cover the whole of Africa, north to south and west to east. We run over 60 African adventure tours; covering 26 countries, with departures every month.
Travel by overland safari truck is the safest, most sociable and cost effective way to have an African safari holiday. On the big Trans Africa we go to areas where public transport is unreliable, roads are rough, and finding accommodation can be difficult.



Our driver leaders are trained mechanics and experienced drivers. They are there for advice and help during the trip and have a good knowledge of the areas we are travelling through.
However , they are not tour guides, so at many sights we use local guides for a more detailed and in-depth view.
We operate with one crew member as it gets you involved in the day to day running of the trip and also gives you more personal independence. We feel people come to Africa to experience it; so our safari trips encourage people to; join in, go shopping in the markets and mix with locals. 33 years of running trips this way have convinced us this is what our passengers want.