Leaving Sessrium, we continued northwards to the town of Solitaire. Basically a service station and small campsite on a crossroads. There we gorged ourselves on their famous apple pie. With a nice cuppa it made a perfect morning tea break. The landscape continued to awe, and I'm sure a few jaws were constantly on the ground! With the rains comes new life, and the normally dry desert was a sea of green. In many previous visits to Namibia I had never seen it like this, so all new how special it was to be privilege to this spectacle.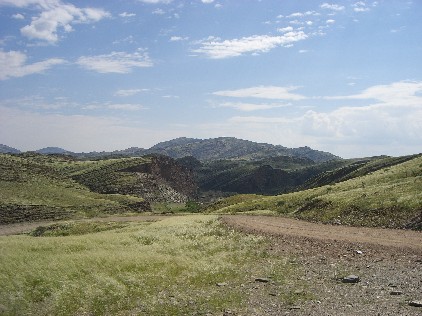 Leaving Sessrium, it's north to Solitaire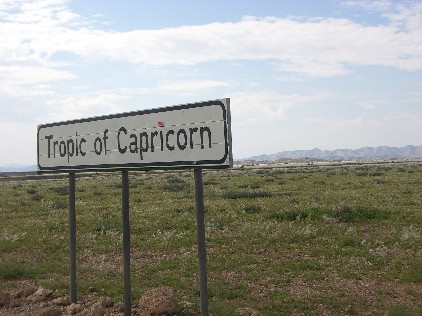 Tropic of Capricorn
Some incredible mountain passes, and the obligatory photo stop at the Tropic of Capricorn. The sign was 'vandalised' by stickers from McGregor and Boorman's Long Way Down 'expedition'. We overlanders don't think much of their 'heroic' exploits! And then into the coastal desert before arriving in Swakopmund. A very real oasis next to the sea.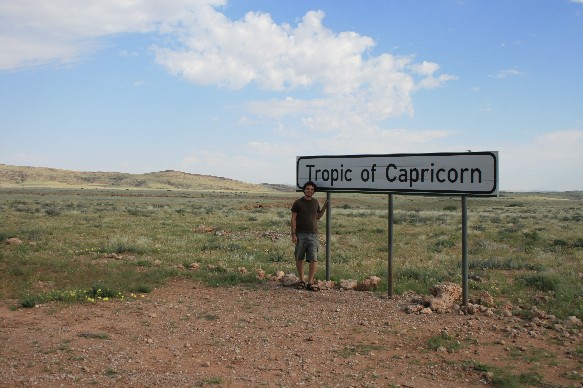 Tropic of Capricorn again
Swakopmund is the adventure capital of Namibia, with a myriad of activities to get into. Paul, Jaap, Steve and Chris did a tandem skydive.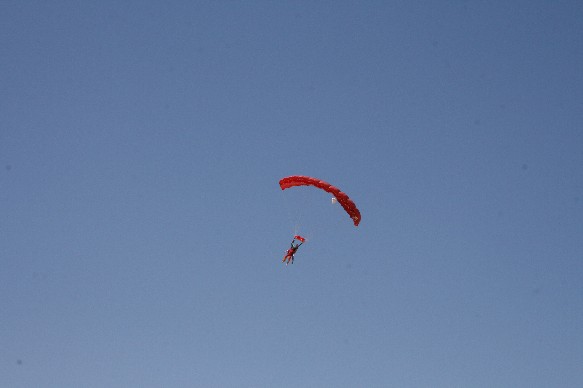 Tandem skydive
Some then went on to quad bike through the sand dunes. Three nights in all was spent enjoying the town's restaurants and quirky German/Afrikaans culture.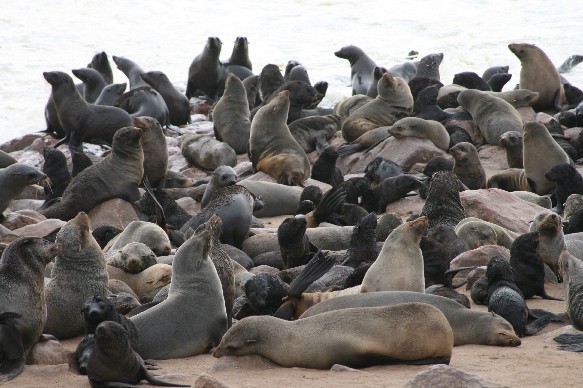 Cape Cross seal colony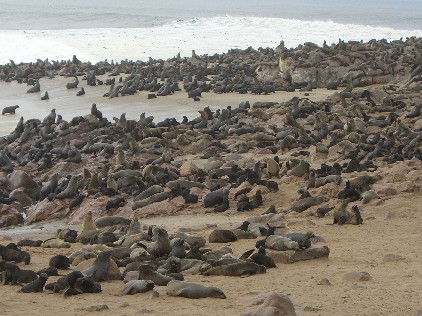 Cape Cross seal colony; very smelly
Short visit to the Cape Cross seal colony (very smelly) which is home to some 60,000 cape fur seals. I think we only counted half that! Then back into the desert for the spectacular Spitzkoppe. Chris summed it all up in one word, "WOW", when alighting from the truck.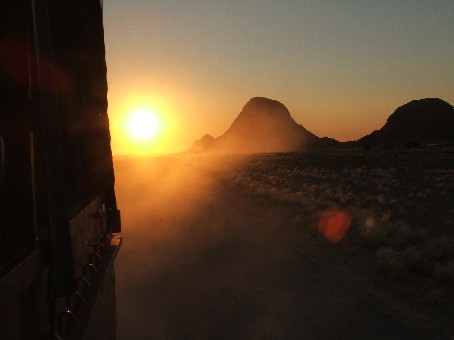 Spitzkoppe, Namibia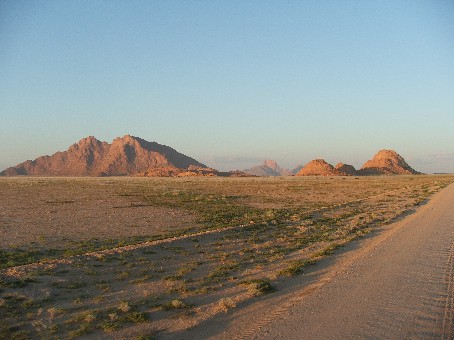 Spitzkoppe stands some 1700m high in the middle of nowhere
ts smaller sister is nearby, and the range of colour produced at sunset has to be seen to be believed. It proved to be one of the all time favourite camping spots, right next to a massive boulder. As promised the night sky was crystal clear and star gazing was in order.The morning saw us reluctantly leaving Spitzkoppe, but we still had amazing views as we drove away.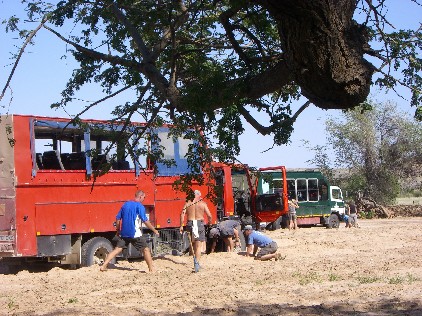 The Omaruru River had widened and lost a lot of its banks
I had been warned that the Omaruru River had widened and lost a lot of its banks due to the heavy rains. Well we certainly found that to be true. What is usually a 12m wide stretch of sand was now a 100m stretch! And all very soft, as another truck had discovered. We had a quick recce and made a plan. Whilst the other truck struggled with logs?!, we got the sand mats out and put our experience to good use. Caterpillering across we eventually caught and overtook the other truck, then with a final surge got across. All to rather longing stares from the other truck! We couldn't really leave them to it, so we then helped them across.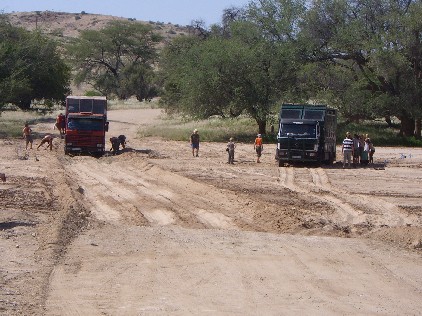 Still crossing the river
Later that day the truck started to misbehave again, a power steering hose had ruptured, so after a quick fix we pulled into the town of Khorixas. I had to do some major repair work so we found a campsite with a pool, and I got stuck in. With the truck repaired we had a few quiet ones in the bar whilst attempting to watch champion's league football on a very bad TV!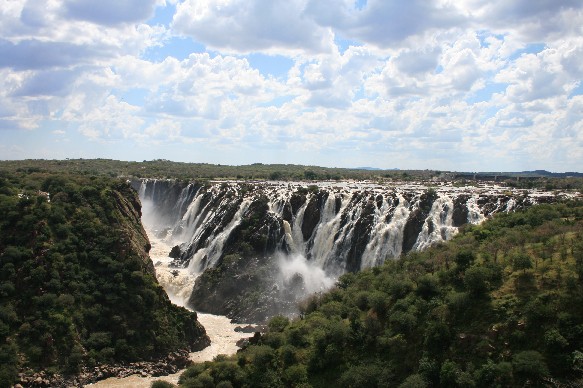 Ruacana Falls on the Angolan border
For this leg we have a lot of time up our sleeve, so a suggestion was made to visit Ruacana falls, on the Angolan border. Due to the heavy rain the country had been experiencing it should be spectacular. On the way to the falls we came across quite a few chameleons crossing the road, so of course we had to stop and have a chat.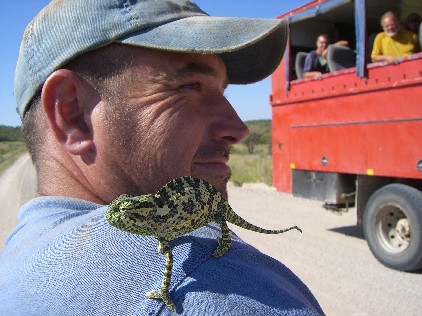 Chatting with a chameleon
We arrived early afternoon and were not disappointed. Not as much water as expected, but stunning nonetheless. We also snuck across a hole in the fence and touched Angolan soil. Big raspberries to the Angolans! We don't need your visa.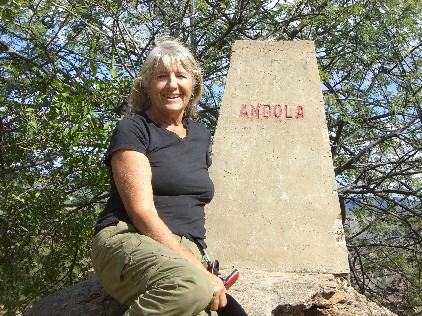 Angolan soil
We tried a campsite nearby as it claimed to have 'Hippo pools', but on enquiry we were told that the Hippos were shot three years ago! So we gave it a miss and went to a local 'shebeen' (pub) for a cold one to make a plan. The result was a bush camp on the way back towards Kamanjab.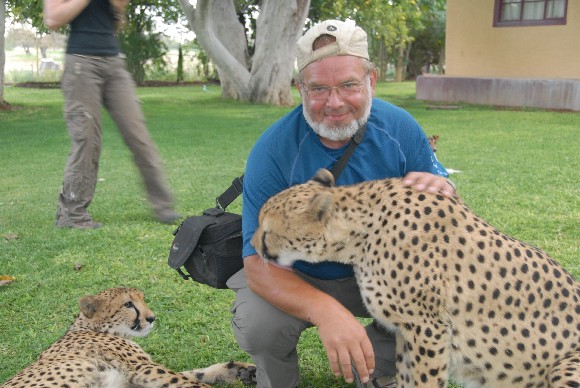 Ojititongwe Cheetah Park
Next afternoon we arrived at the Ojititongwe Cheetah Park. Started some 12 years ago by the Nel family. They had shot a problem Cheetah on their farm only to discover it had three very young cubs. Mario, the eldest son, hand raised them and the love affair with the animals began. Now they attempt to rescue any problem Cheetahs from farms and keep them in large enclosures on their property. The struggle continues with maintaining fences and obviously feeding the cats, so their main source of money for that is visitors.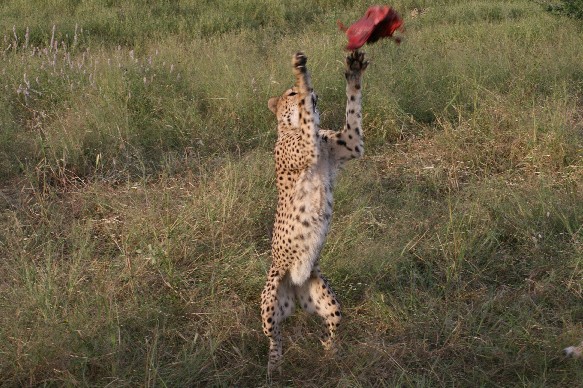 Cheetah feeding
We firstly went to the house where three tame Cheetahs live. After an hour or so spent patting and having their rasp like tongues nearly tearing the skin off our hands, we went back to the bar. (All bar proceeds go to the Cheetahs) An hour later we were taken in the back of an open pick up, and driven into the wild enclosure. 19 very wild Cheetahs are kept there. Slowly driving along the cats eventually began to follow. Quite a sight. When enough had gathered the vehicle was stopped and the two lads; James and Marinas, got out and opened up the bin containing the meat. They have to carry long sticks as the cats are quite aggressive. They each get approx 2kg of meat each and it is thrown into the air for them to catch.  You must be very quick to get it on film. When all the cats had been fed, we went back to the bar to babble excitedly about what we had just seen.   So far everyone has enjoyed Namibia immensely. And Etosha is next! 
The world is a very good world, but you must seek it; it will not do to neglect it.
Sydney Owenson, Lady Morgan (19th century)