On 22nd September the World Health Organisation (WHO) issued a statement from the he second meeting of the International Health Regulations Emergency Committee regarding the 2014 Ebola outbreak in West Africa, see: http://www.who.int/mediacentre/news/statements/2014/ebola-2nd-ihr-meeting/en/
We've written this article to update people who are concerned about Ebola and it's causing them to delay / postpone a possible trip to Africa.
Countries currently affected by Ebola
Since December 2013, five countries have been impacted by Ebola these are Guinea, Liberia, Nigeria, Senegal and Sierra Leone. These are all in West Africa, no other regions/countries than these have been impacted as and up to 22nd September, 2014.
In particular WHO stated that two of the countries (Nigeria and Senegal) should be praised for their effectiveness in halting the outbreak of the virus.
Ebola relative to Malaria in Africa
The World Health Organisation has previously reported that whilst of concern the Ebola outbreak needs to be borne in context. Malaria for example killed 460,000 under 5's in 2012, whereas Ebola has killed 2,793 to date. Whilst there is a need to show precautions, African Trails would definitely say that precautions are needed more for Malaria than Ebola for visitors to Africa outside of the five affected countries.
A map of countries affected by Ebola as at 17/09/2014
World Health Organisation Advisor's Ebola Recommendation
A panel of 20 international WHO advisors have recommended against a blanket ban on trade and travel following an assessment of the situation in the region. The current restrictions imposed in the area have added crippling economic implications on top of the health problems in the countries. These vary by country but include:
Cancellation of flights
Trade bans and cancelled contracts
Cancelled sports events
As reported previously by WHO and other organisations travel elsewhere in Africa is totally safe as they are unaffected by the Ebola outbreak.
World Health Organisation Statement
The World Health Organisation published the following statement:
"Flight cancellations and other travel restrictions continue to isolate affected countries resulting in detrimental economic consequences, and hinder relief and response efforts risking further international spread; the Committee strongly reiterated that there should be no general ban on international travel or trade, except for the restrictions outlined in the previous recommendations regarding the travel of EVD cases and contacts."
Screening Measures
The World Health Organisation has previously declared the Ebola outbreak as an international state of emergency. Therefore it's only reasonable that extra security measures have been put in place to safeguard travellers in Africa from possible infection.
WHO is recommending that all passengers arriving from the five countries proceed through rigorous screening measures before being admitted to other countries.
Screening measures put in place make an outbreak outside of these countries extremely unlikely and visitors should travel to Africa in confidence.
Africa Awaits!
So what's stopping your visit to Africa? Certainly Ebola shouldn't, call us today on 01524 419909 to discuss your travel options.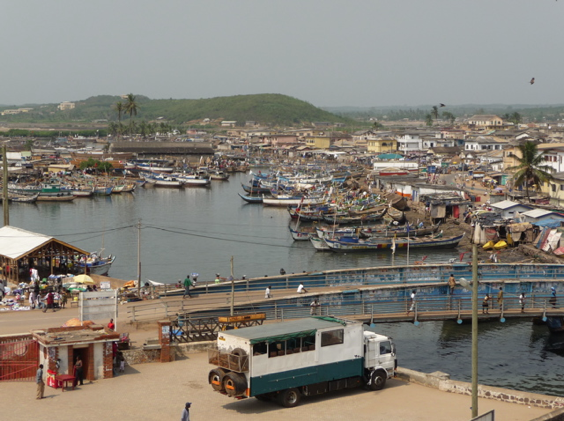 African adventures awaits in unfamiliar locations such as Brenu Beach, Bening
Whether you're looking to book one of our many tours, visit Egypt, see the Mountain Gorillas or just have some questions we'd be delighted to hear from you. Africa awaits!
Image Credits: Wikipedia